How YOU Doin'?
Posted by DESIGN TEAM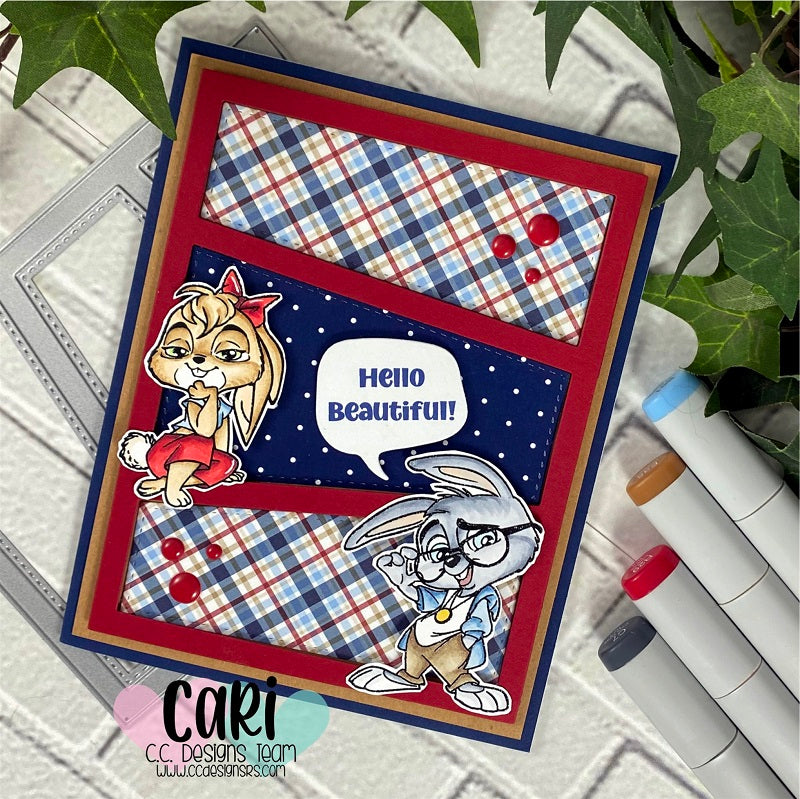 Happy Tuesday Fellow Crafters!
I am showcasing a card today that features two more of the FABULOUS bunnies from this month's newly released stamp set, Teen Bunnies.  I think perhaps he's trying to work his mojo on the lovely lady bunny. Is she interested? Will she fall for it?
I kept the card simple to emphasize bunnies, color coordinating the background paper withe bunny's fashion style.
 

The sentiment was printed from my computer and die cut with a speech bubble. 
I added some enamel dots for accents.
Thank you for visiting our blog.  I hope you liked today's card.
Cheers, Cari
xoxoxo
SUPPLIES:
Stamps/Images:
Teen Bunnies Clear Stamp Set - C.C. Designs
Dies:
Teen Bunnies Outline Dies - C.C. Designs
Wonky Window Die 
Comic Speech Bubble
Copics:
Boy Bunny:
E04 E43 E44
C1 C3 C5
B000 B91 B95 B97
Y26
100
Girl Bunny:
R24 R29 R59
B91 B95
YG06
E30 E31 E35