No Monkeying Around
Posted by DESIGN TEAM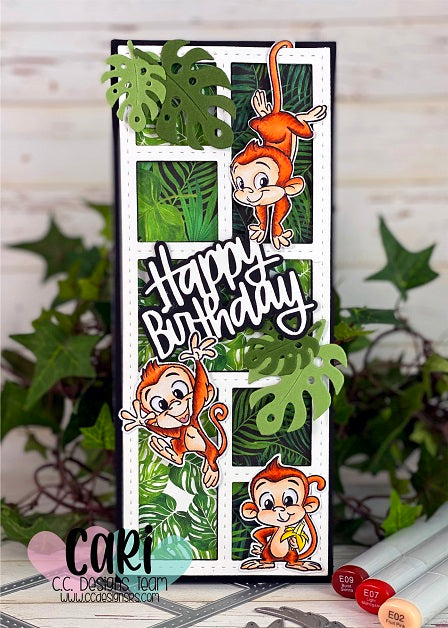 We'll have no monkey business here! Except of course if it's your BIRTHDAY!  And it's C.C. Designs' birthday this month, so the Design Team is celebrating by featuring birthday cards all month long!  
These monkeys are one of my favorite sets.  I know, I have a lot of favorites, but my husband's Chinese zodiac is the monkey, so I have a particular fondness for them to begin with, and he has a very mischievous manner, which these monkeys clearly do as well.
I kept them in their tropical environment for this card, can you feel the humidity? 
.  
Thanks for visiting our blog and enjoy your week!
Cheers, Cari
xoxoxo
SUPPLIES:
Stamps/Images:
Dies:
Slimline Windows Die
-
Whimsy Stamps
Happy Birthday - Simon Says Stamp
Tropical Leaves - Lawn Fawn

Copics:
E00 E01 E02 E04 E07 E08 E09
Y02 Y15