C.C. Blog
Posted by DESIGN TEAM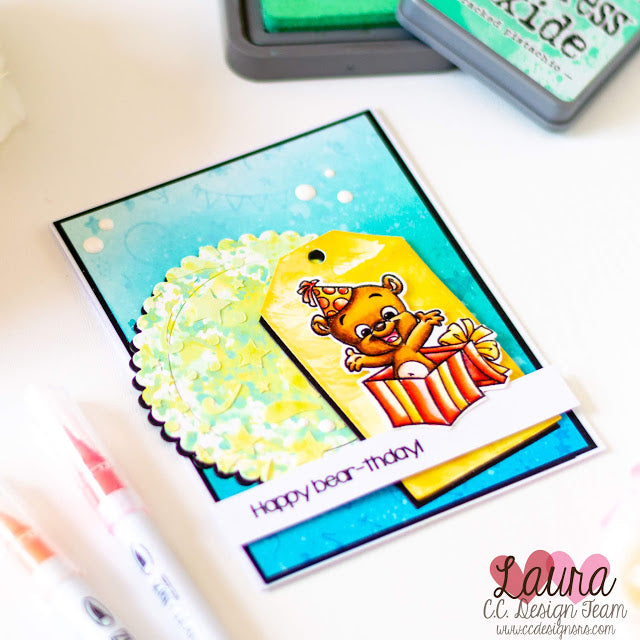 Hi everyone! It's Laura here and today I am sharing a birthday card I made with the C.C. Designs Bears stamp set. This is one of my favorite sets from the new release and I was so happy to finally ink it up and use it on a project. I also created a video tutorial showcasing five different techniques with Distress Oxides and the whole making process of this card. For the background I used Distress Oxides in Tumbled Glass, Peacock Feathers and Salty Ocean. I blended them on a panel of Bristol Smooth Cardstock and added some water droplets with a...
Posted by DESIGN TEAM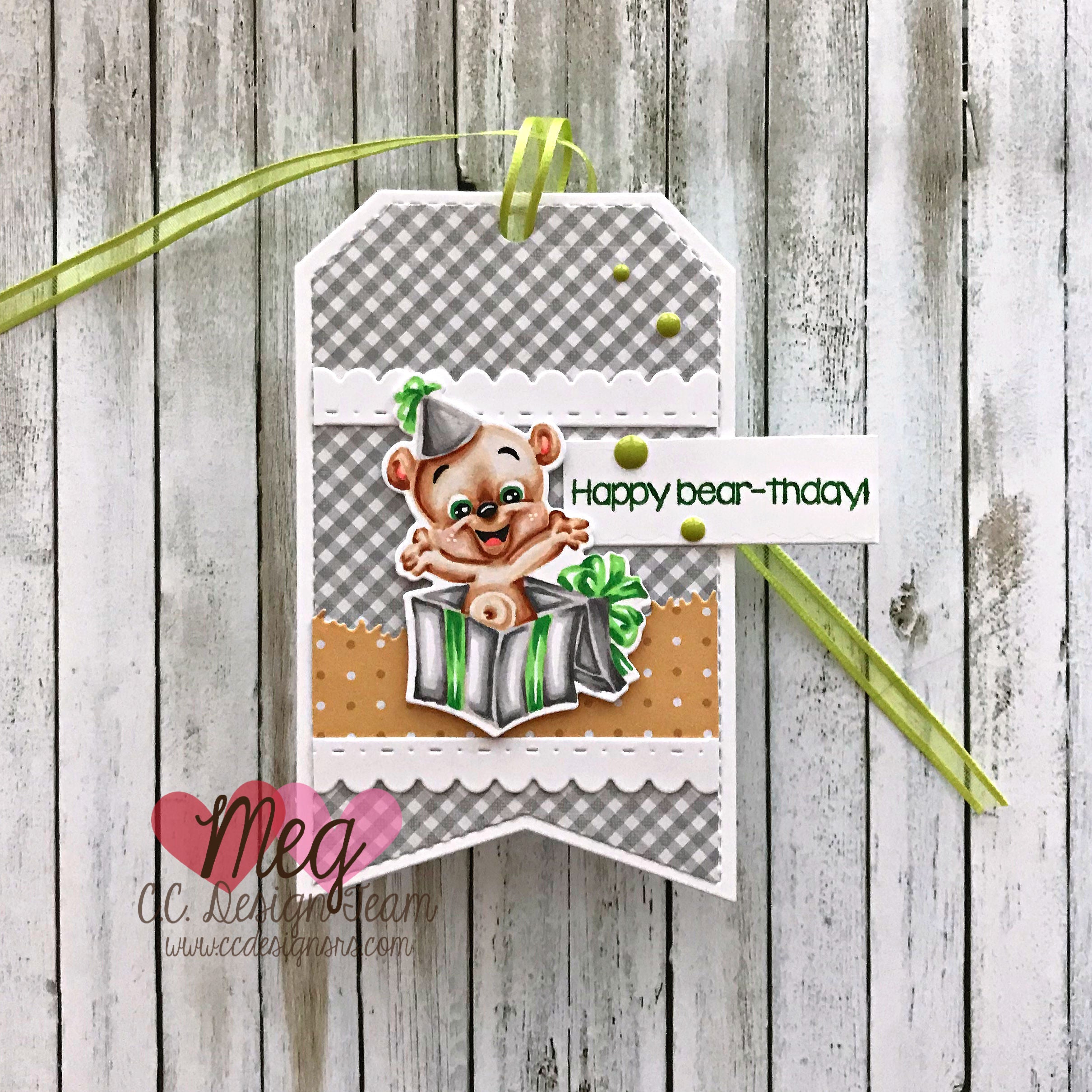 Hello! It's Meg here today, and I'm sharing a gift tag I made with the new Bears clear stamps and dies. What I love most about this stamp set is how versatile it is for boys or girls, just by the change of some colors. I added lots of pops to complete this tag made with the Tags Galore dies. I used the In & Out Rectangle dies to create my scalloped border, and the Cloud and Grass die to create a background. The Hearts & Dots paper pad added a nice pop of gold. I finished off this project...
Posted by DESIGN TEAM
The APRIL RELEASE is now available for purchase. We are introducing cute birthday bears, forest creatures ready to party, an awesome Hippo Birdie Two Ewe set, and some fabulous unicorns, not to mention 1 background stamp, 2 stencils, and 3 different unicorn die sets! This release is about Birthdays and all types of celebration! Today, our talented Design Team is showcasing the 3 UNICORN Dies: Bow Unicorn Die, Cupcake Unicorn Die, and Flower Unicorn Die. Be sure to scroll all the way down to see our list of WINNERS! BOW UNICORN DIE Ginger Kerri Stacie CUPCAKE UNICORN DIE Amador FLOWER...
Posted by CHRISTINE WOODEN
It's the final day of our previews. Tomorrow the new release will be available at noon cst. Are you enjoying the new release? Tomorrow on the blog we have new Make a Unicorn dies that we will be previewing, they are cute as can be. The Party Unicorns Stamp Set has 4 pretty funky unicorns and 3 sentiments, it also has a coordinating outline die.   Card #1 is the unicorn enjoying the frosting on the cake. I used the In & Out Rectangle Die and put it on the card on an angle. I added a bunch of funky...
Posted by CHRISTINE WOODEN
It's day 3 of our previews. The new release will be available April 4th at noon cst. Day 3 brings us the fun set Hippo Birdie Two Ewe. In the set are 2 hippos, 2 ewes, and 2 birds. I had so much fun creating this set, and the hippos just crack me up.   Card #1 features a hippo, bird, and 2 ewes along with the coordinating sentiment. The card is thin and long letting me add all 4 characters. I used the grass die from Cloud and Grasses Die and added the bigger bow from the Bow Die. I...
Posted by CHRISTINE WOODEN
It's day 2 of our previews. The new release will be available April 4th at noon cst. We have a new background stamp this month, Birthday Background. This rubber stamp that is attached to foam, coordinates perfectly with our birthday sets. Today we are previewing another new stamp set and coordinating outline dies called Forest Creature Birthday Clear Stamp Set.    Card #1 is the fox and raccoon having a little party between themselves. I used the In & Out Rectangle Die with the Dazzle Dazzle Paper Pad for the center piece. I finished it off with Dazzle Dazzle Clear Enamel Dots.  ...
Posted by CHRISTINE WOODEN

Welcome to the April Preview Days. We have 4 days of previews to show you before the release on April 4th at noon cst. There is a grand prize giveaway right here on the blog, you just need to comment on each day and each Design Team members blog. And then we have gift certificate giveaways each day in the Facebook Group. This month we have 2 new stencil designs, Birthday Dots and Concentric Circles. The Birthday Dots Stencil are random dots all over the 6" x 6" stencil, and the Concentric Circle Stencil has 3 different size dots in circles.   Our...
Posted by DESIGN TEAM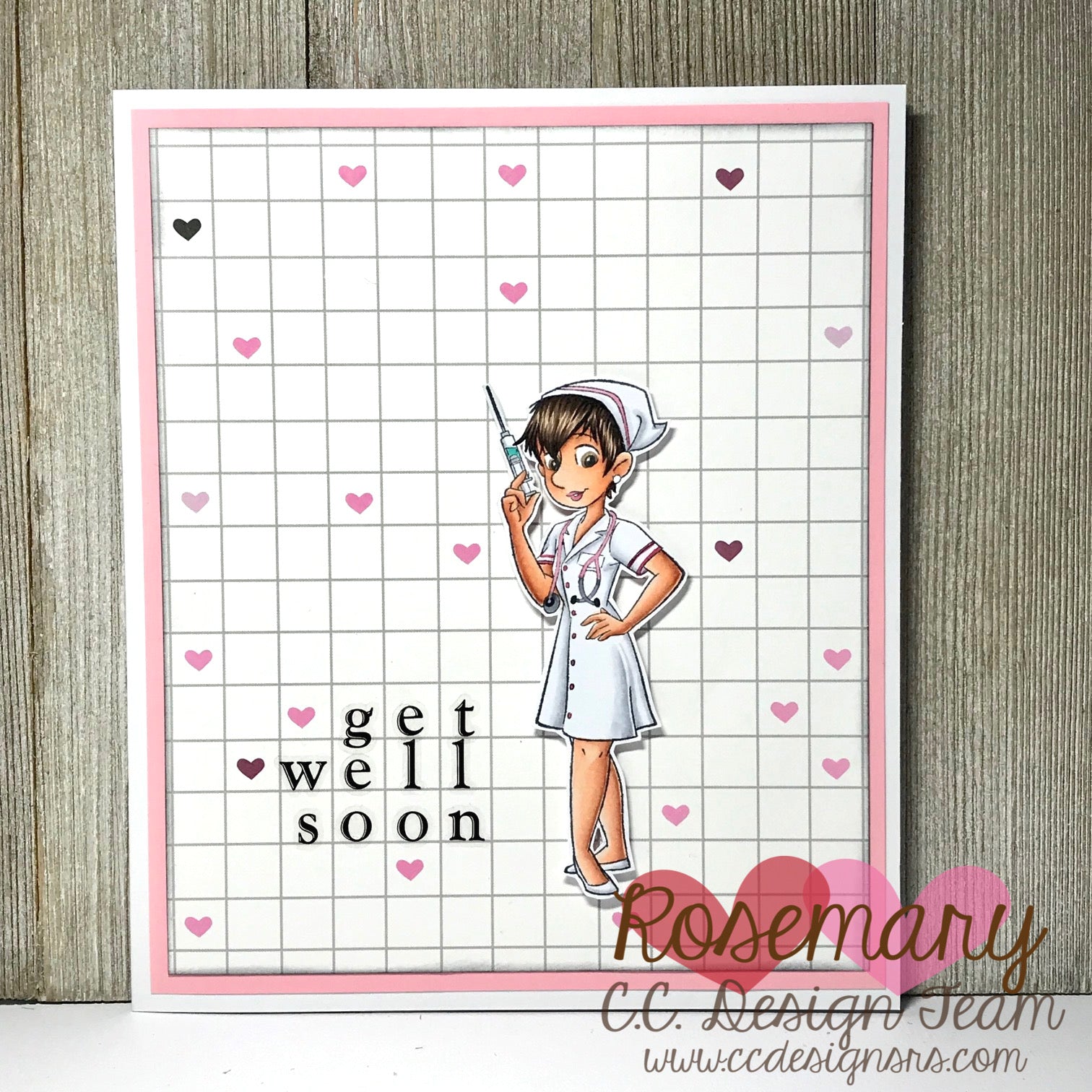 Happy Friday everyone! I hope you had an awesome week! It's Rosie here today sharing a Get Well card using NURSE SUE from C.C. Designs. I realized after going through my card stash that I don't have any Get Well cards......shocking right?! This stamp is definitely a good one to have as part of your stamp collection! I will definitely be using it for various occasions. Head over to the C.C. Designs Store to pick up yours today. Be sure to use my code ROSEB46 at checkout for extra savings! :)     Copics: Skin: E000, E00, E01, E02, E11, E15...
Posted by DESIGN TEAM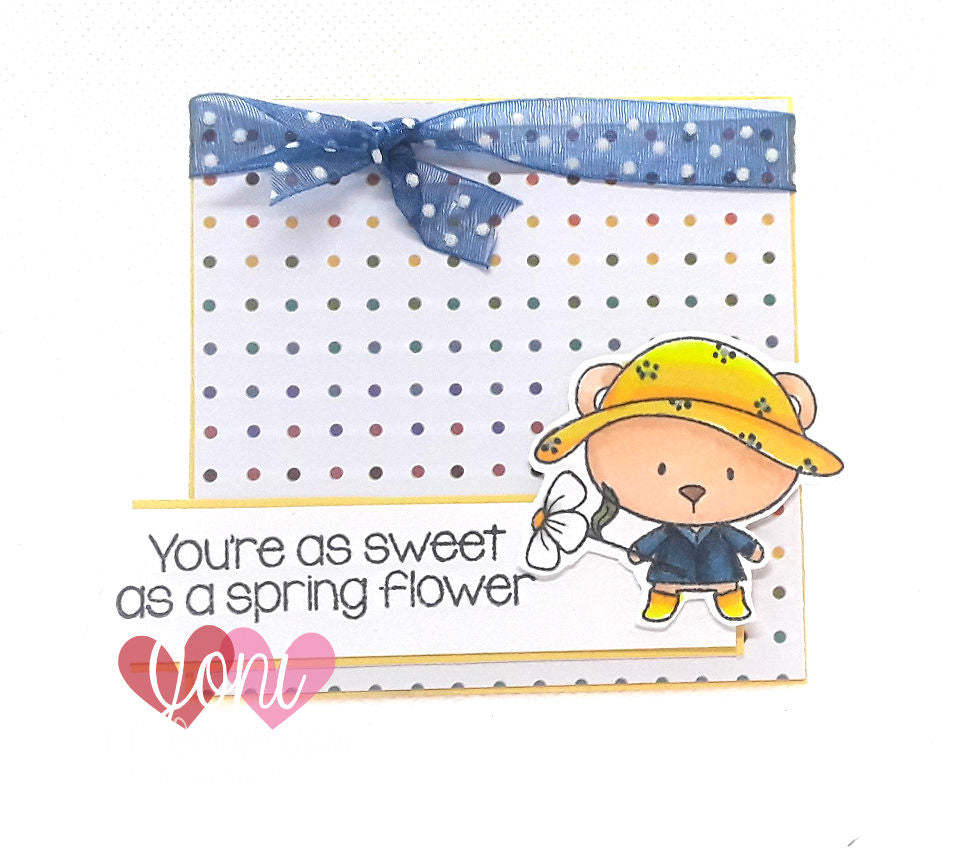 Happy Thursday, everyone! It's Joni here with a simple 3x3 card that I made using the April & May Clear Stamp Set: This set is full of adorable characters, add ons, and sentiments. It's perfect for Spring! I created a quick 3x3 card using the little bear and flower:   Quick, easy, and a perfect way to use up scraps! I love 3x3 cards because you can tie them on to a gift without needing an envelope. You can find this month's new releases right here at the shop. Happy shopping! xoxoxoxJoni  
Posted by DESIGN TEAM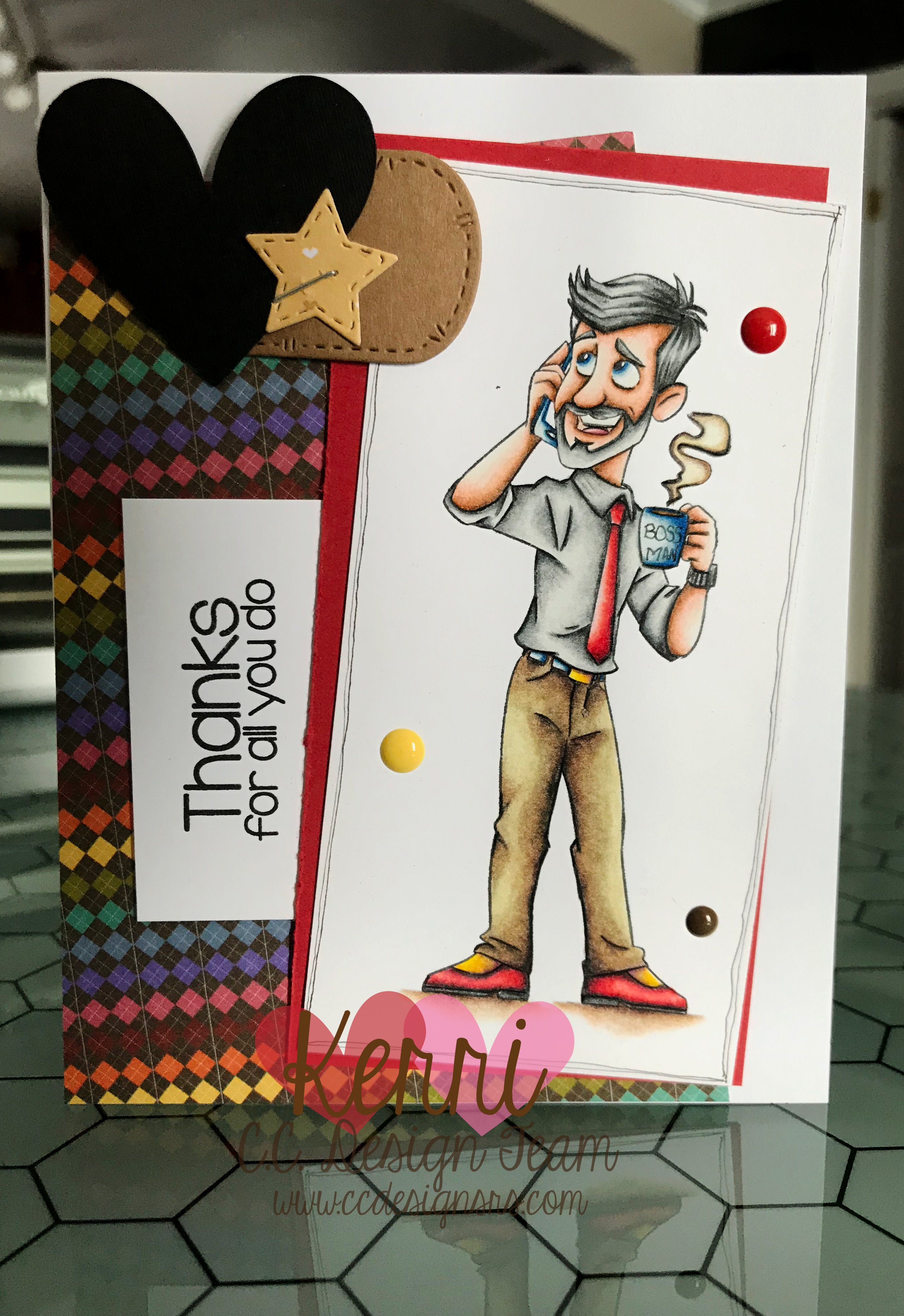 Good day to my fellow crafters! I would like you to meet BUSINESS DON.  I also used Collage Trio Dies, Razzle Dazzle Paper Pad with Enamel Dots and the sentiment is from the THANK YOU SENTIMENTS SET! I colored up the Image using my Prisma Pencils and added some lines around the image with my Copic Liner!  All of these supplies can be found over at https://ccdesignsrs.com/collections/new Have a great day..HUGS Kerri!     Barky
Posted by DESIGN TEAM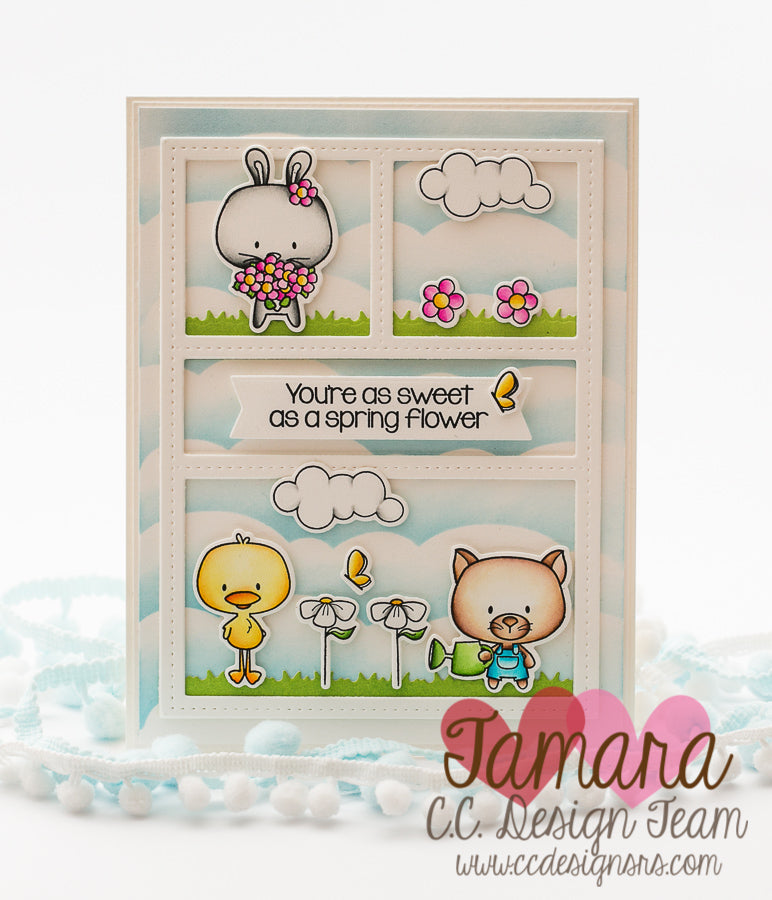 Hi! Tamara here with you sharing my latest C.C. Designs Spring themed card. For this card I coloured most of the images from April & May clear stamp set. All images were cut out with matching April & May outline dies. I made the cloudy background with the Distress Oxide inks and Cloud and Grass die. Grass was made with the same die set. Sentiment comes with the stamps. I cut it out with Banners accessories dies. The frame is also CCD die, it's called Quad Collage die. That's it from me today! Hugs, t.
Posted by DESIGN TEAM
Hello, I hope none of you are sick, but sometimes you need them. So that somebody knows that you think of them very much! I tried a different card form once and am actually very satisfied with it. I used some of the great paper again, which is very versatile, as you can see. It goes with everything. I only decorated the card with punched hearts and a few dots. I use:Nurse Sue Stamp Razzle Dazzle Clear Enamel Dots Hearts & Dots Paper Pad Trio Collage Die If someone is sick at the moment, then I wish him or her...