Posted by DESIGN TEAM
Hello together! It does not always have to be a colored stamp motif to create a card. I would like to show you with this card. It is also enough a great punched lettering and a little decoration to create an attractive card, or what do you think? Whether the background is stamped or designed with a brush is of secondary importance. I use: Joy & Noel Metal Die Have a nice day Ginger
Posted by DESIGN TEAM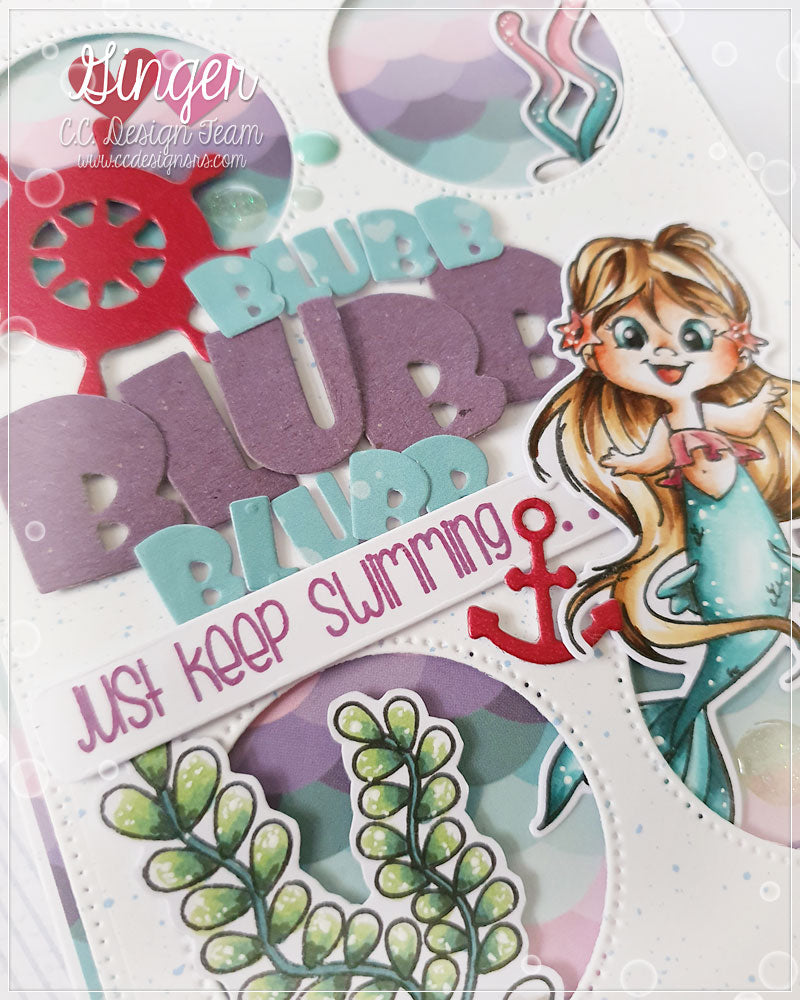 Hello dear ones, today it goes with me, Ginger, into the depths of the seas. But we dins not alone one of the sweet mermaids accompanies us. I have used the new stamp sets "Mermaid Party" and "Underwater Scene" and the matching "Mermaid Party Outline Die". In addition, the "Mini Alphabet & Numbers Metal Die". I hope you like this card! Love greetings Ginger
Posted by DESIGN TEAM
Hello! Today I'm showing you a clean and simple card with one of the cute dogs from the "Puppers Clear stamps set". Again, there are the matching outline dies. In the background, I first wiped a gray background with Distress Oxiden and then applied the hearts using a stencil. I have kept it very simple, because I think then the motif really comes into its own. And it must not always be stuffed everything, or what do you think? Hugs Ginger
Posted by DESIGN TEAM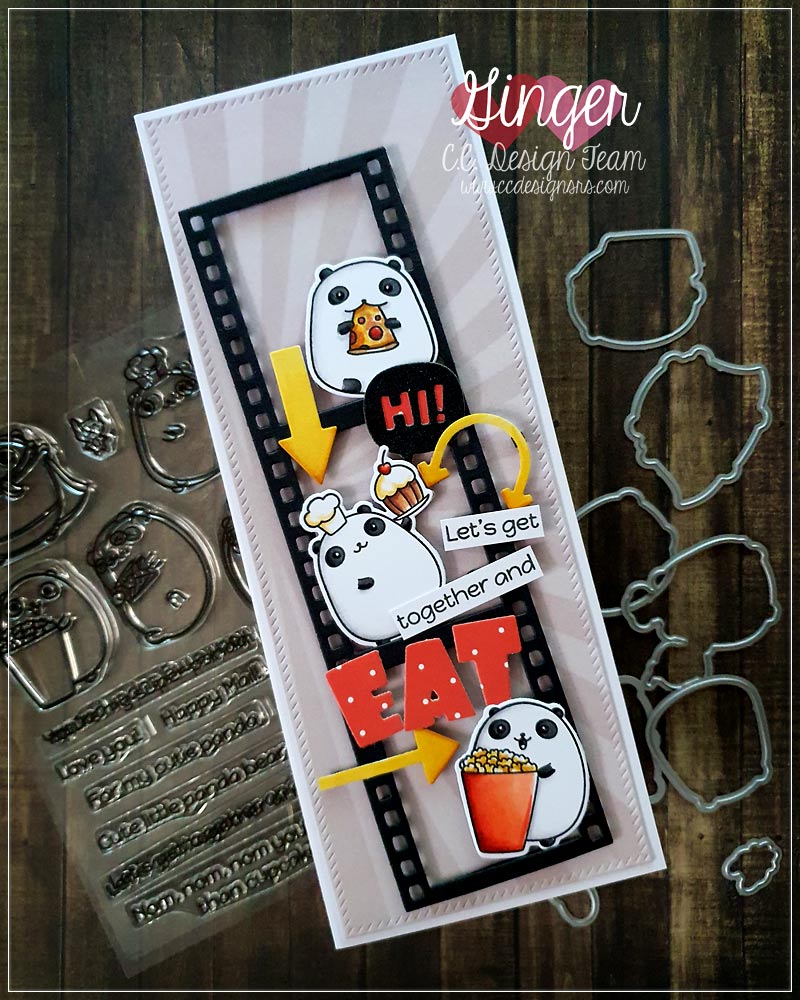 Hello all,today it's my turn again to show you something I made with one of the new stamp sets. For this I have picked out the "Panda Party" stamp set. There are also the outline dies to match. Sometime after Corona, when we all get to meet again, I want this card to go as an invitation to friends and then we'll have a nice movie night and dinner. I used these Copic colors for the coloring. Love greetings Ginger  
Posted by DESIGN TEAM
Hello dear ones, today it is my turn again to inspire you with a card or something similar. At least I hope to do it ;-) Therefore I chose the stamp set "Tiny Wisemen" and made a Slimline card. I colored it again with my beloved Copic markers. This time I really went very deep into the ink pot. Since every now and then the question comes up which ink pad colors I used, I took a photo of these, too. Best regards your Ginger https://www.instagram.com/colorfulcluttereddesk/
Posted by DESIGN TEAM
Hello! Oh I am so enthusiastic about the little witches. You too?In any case, they must be lovely witches, because nothing else is possible. I colored them with Copic markers, the Autumn Paper Pad and decorated them with my beloved Enamel Dots. I have used: Witchy Way Clear Stamp SetAutumn Paper PadRazzle Dazzle Shiny Enamel Dots Hugz Ginger
Posted by DESIGN TEAM
Hello,I am currently in ATC fever again and I just finished these three.I used 3 of the cute stamps from the "June & July Clear Stamps" from last year. You can find it here in the shop: click I have designed the background with many different stamps and punched them out appropriately. I use the Scalloped Rectangle Metal Die. A small decoration of enamel dots and they were ready. Of course I also filled in the back again. "S.Y.S" stands for "Sea you soon" ;-) I take more care to avoid plastic garbage, so I made small envelopes myself and...
Posted by DESIGN TEAM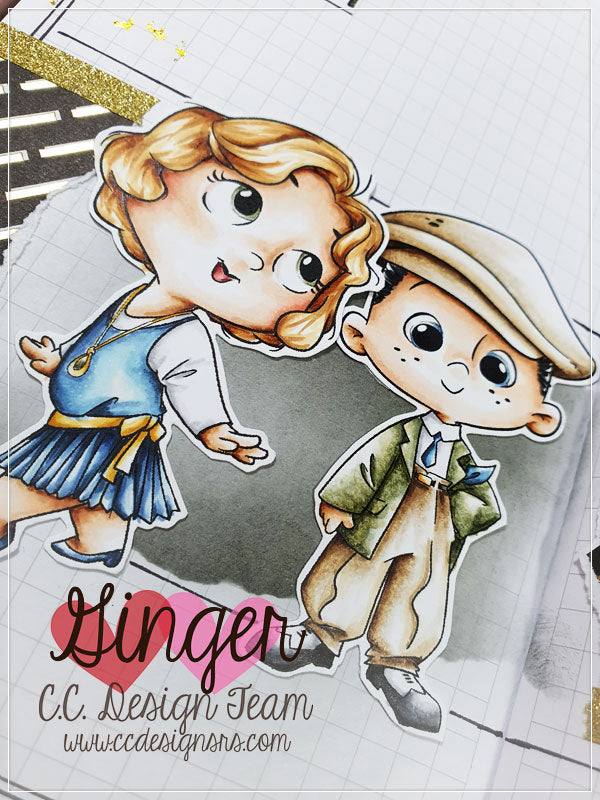 Hello, dears, today I'm taking you with me into one of my coming weeks. At least as far as decorations in my planner are concerned. In the week we have a holiday in Germany, so only the four days are stamped.I used one of the girls and boys from the Gals and Gys stamp sets. With the decoration I have held back a little and put the emphasis on the motives. Just some design paper, Washi and gold foil.  The days will be full by themselves ;-) Here once again a closer look at the two great motives. They fit...
Posted by CHRISTINE WOODEN
Hello! I was in the mood for something other than a card and decided on a small gift bag. Filled with a couple of legacies. For this I have chosen paper, punching templates and one of the little foxes. The bag has no window of its own, but I wanted to install one. I did that and sealed and decorated it with a foil and the beautiful frame. Then only a little decoration and of course the sweet fox. Hugz Ginger
Posted by DESIGN TEAM
Hello dears!In these crazy times, it helps to distract yourself and make life a little bit more colorful. I took the Unicorn & Rainbow Clear Stamp Set and colored one of the girls. I also took some pictures: Nr. 1 Nr. 2 Nr. 3 The motive was stamped with Sugar Cookie Ink Pad. I colored the print with Prismacolor. The beautiful paper is from the Easter Paper Pad. Stay at home, craft and hold on! Hugz Ginger
Posted by DESIGN TEAM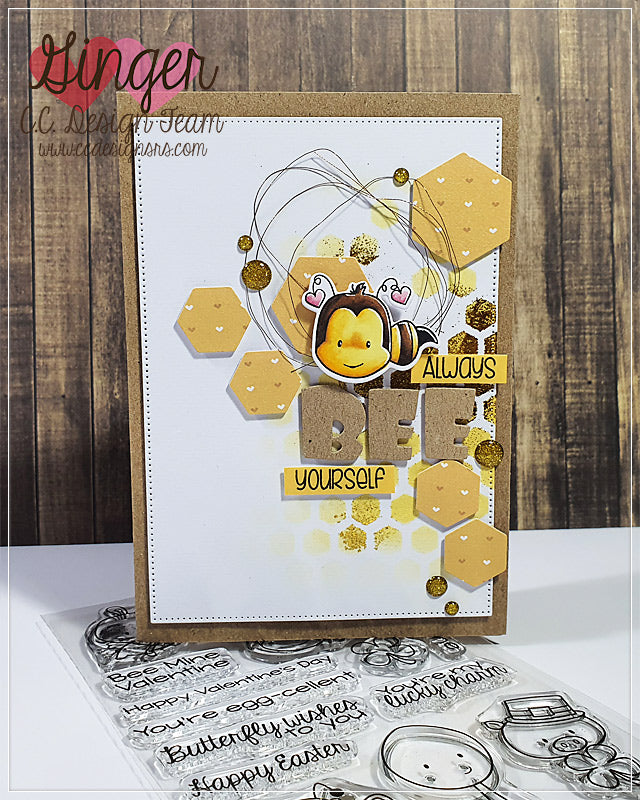 Hello! This little bee from the set February & March Clear Stamp Set is what I really like. You can play with the word "bee" so beautifully. That is what I did and that is how this map was created. I hope you like it! Bee awsome ;-) Hugz Ginger
Posted by DESIGN TEAM
Hello CCD Fans! Soon it will be Valentine's Day again and love will be distributed. I have already prepared something and made this card with a secret message. I used the cute Yetis and the "Hearts & Pink" Paper Pad. This time I also designed the card inside. Here is a small overview of the colours used. I colored with Copic Markers again. By the way, you can see how I colored the little guys:https://ccdesignsrs.com/blogs/c-c-tutorials/coloration-of-the-yeti Hugz Ginger