Treat Bag Gift Card Holder Tutorial
Posted by DESIGN TEAM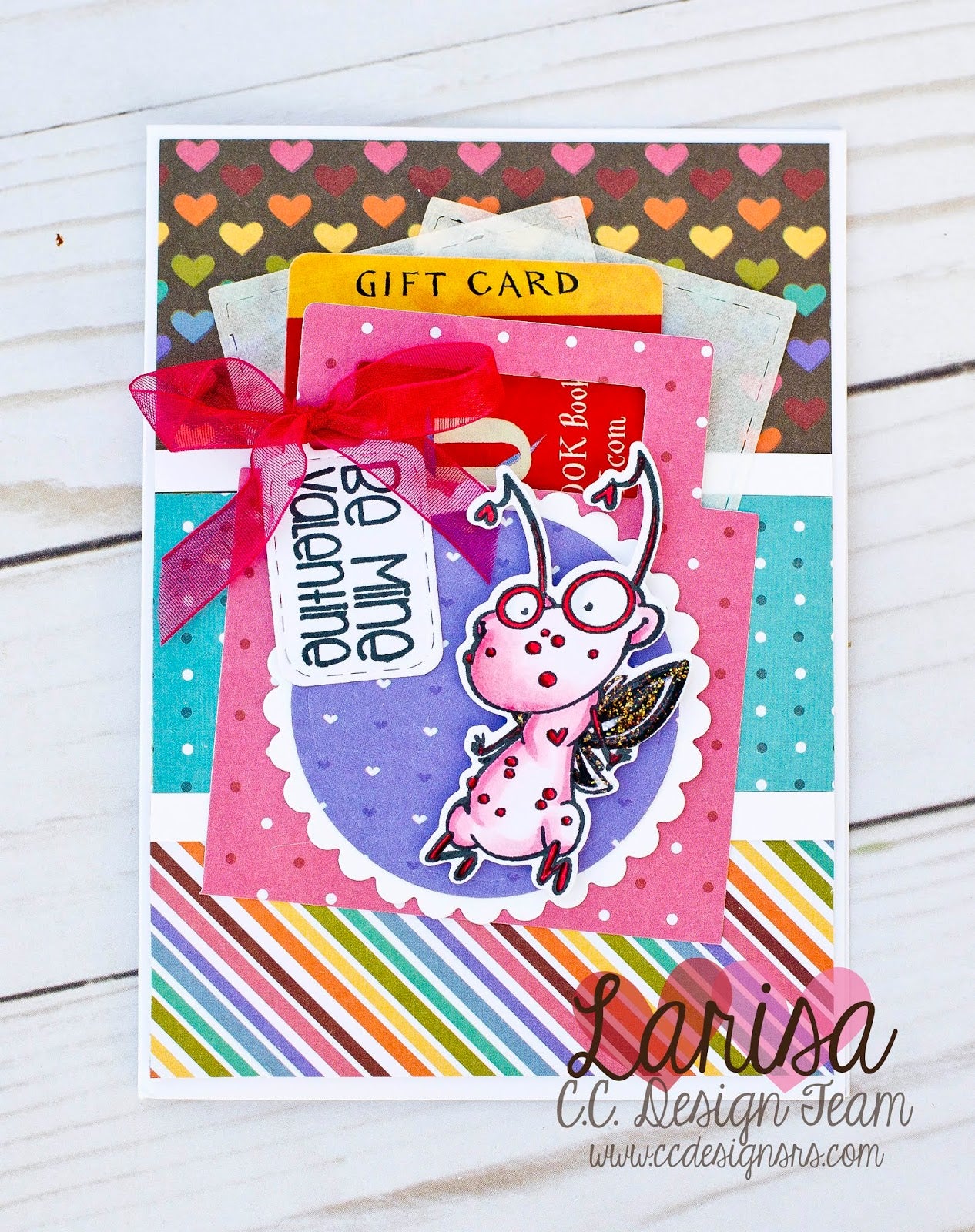 Hello! Larisa here and today, I'm sharing how to use the CC Designs Treat Bag die to create a fun little Gift Card Holder.  This is perfect for any occasion!  Think...Birthdays, Easter, Teacher Gifts, etc.  
To create this card, you will need:
1. Treat Bag Die
2. Patterned Paper
3. Gift Card 
4. Colored Image (Cutie Bugs Clear Stamp Set)
5. In and Out Circle Die
6. Tissue Paper
7. Thin Sticky Tape
 8. Copic-Friendly Ink
Step 1: Trim patterned paper to fit card base.  Die cut pink paper from the Treat Bag Die.  Die cut white card stock and stamp sentiment using black ink.  
Step 2: Layer strips of patterned paper on to heart paper.  Trim bag die so that only front is showing.  Add thin adhesive to back on three sides.  Leave top open.  
Step 3: Die cut tissue paper with rectangle die that comes with the treat bag die.  
Step 4: Adhere tissue paper to card panel towards the top.  
Step 5: Adhere bag to front of card panel over tissue paper.  Use In and Out Circle Die to cut white scalloped circle.  Cut purple circle and adhere on top.  Raise up with foam tape on front of bag die.  Attach tag with ribbon.  
Step 6: Cover back of bug with foam tape.  
Step 7: Attach bug on top of circle.  Adhere panel to front of card base.  
There you have it. A fun way to give a gift card for any occasion!  
Card Details: 
Reviews (4 comments)