C.C. Tutorials
Posted by DESIGN TEAM
Today Ginger wants to show you how she made a mini pennant chain. This serves as a small decoration. First she picks out the cutting templates she uses. In this case for example the pennant from the "Trio Collage Die Set" and letters. Then first of all everything is punched out. She punched out the letters twice to make them stand out a little. To make sure that the holes are evenly sized, take all pennants together and fix them as shown in the photo. So they can not slip. Now 2 holes are punched just at the upper edge....
Posted by DESIGN TEAM
Happy Tuesday everyone! It's Rosie here today sharing a tutorial on how I created an Afro hairstyle for Teen Swissie on the card I made during release week. I use Copic Markers for my main coloring medium. STEP 1: I stamped my image onto Xpress-It Blending Card using C.C. Designs Black Olive Ink Pad, and colored his skin using E11, E13, E15, E37, E18. Next, I used Copic Black 100 to create the base squiggly lines. This helps to hide the stamped hair line. At the top of the pic you can see how I scribbled the marker to create...
Posted by DESIGN TEAM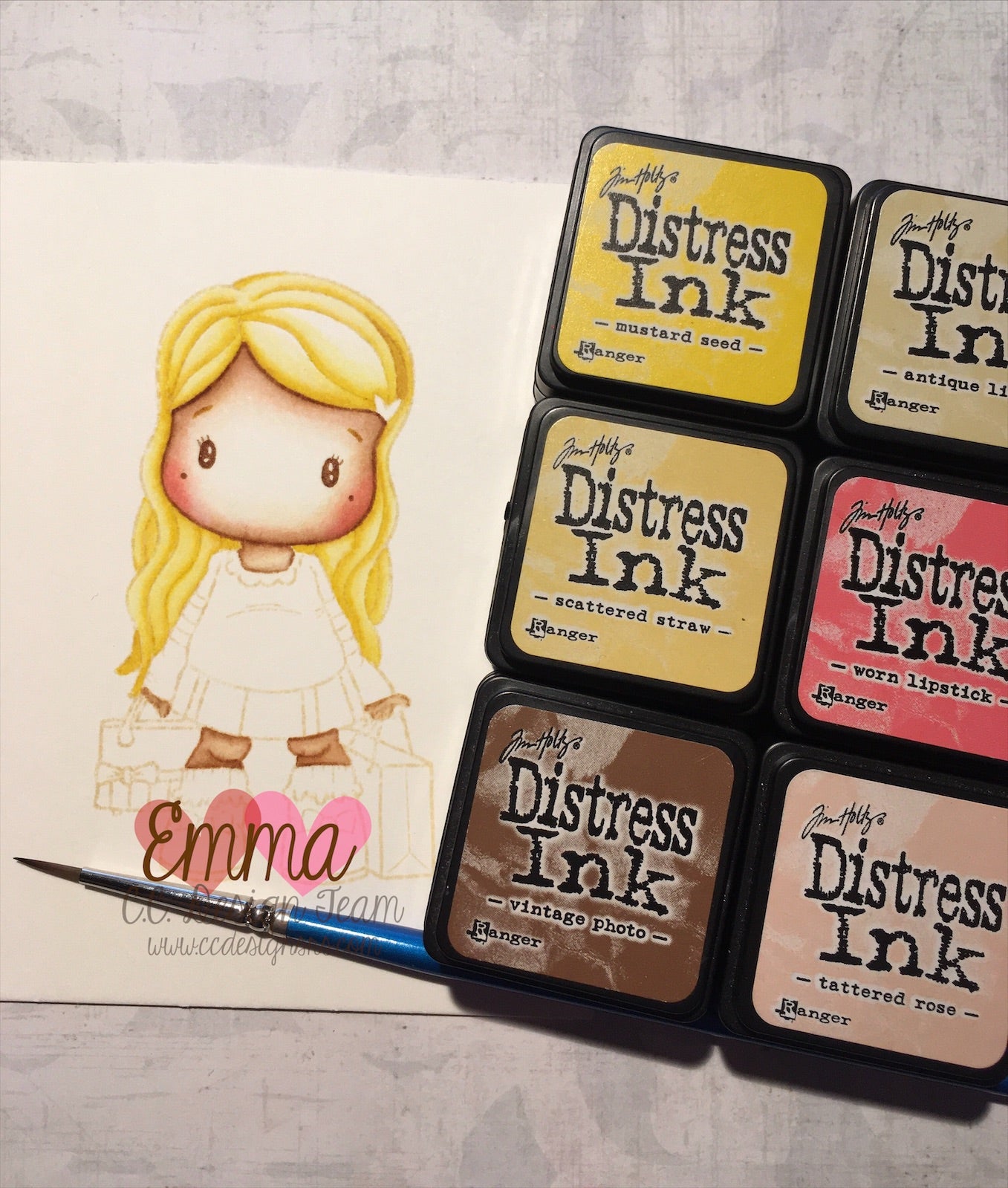 Hello friends! Following last weeks inspiration I'm sharing with you today my process of colouring skin and hair with Tim Holtz distress inks. Please be aware I am no colouring expert, this is just the way that works for me. ☺️Skin: Step 1 - Stamp image in Antique Linen distress ink. Step 2 - Add some Vintage photo Distress ink to an acrylic block and with a damp paint brush, I'm using a size 1 here, take a little and add it to your image. Step 3 - Rinse off your paint brush in some clean water, blot off the...
Posted by DESIGN TEAM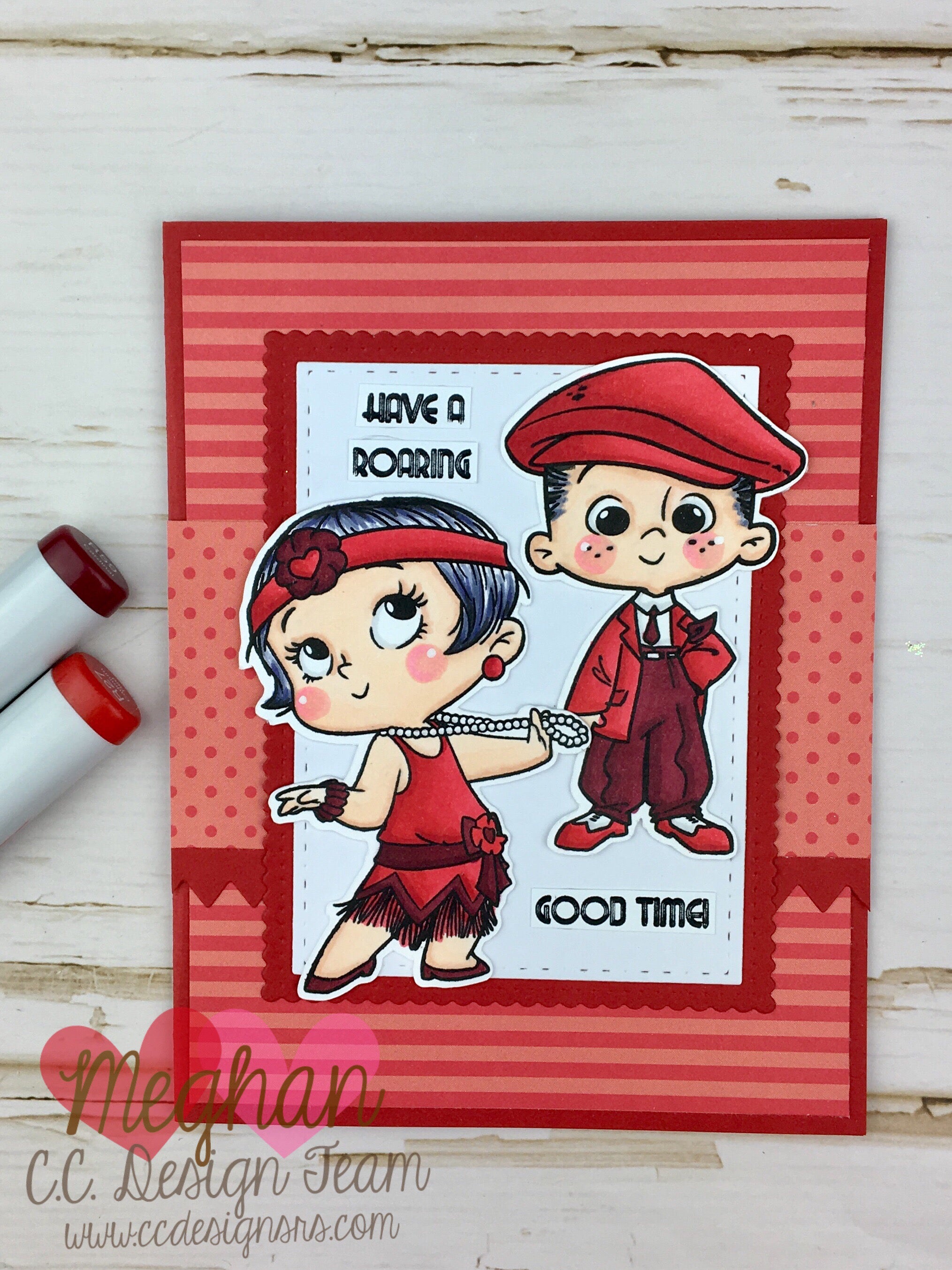 Hi Crafty Friends, I have a ROARING GOOD TIME Tutorial for you today featuring the NEW Roaring 20s Gals & Guys from C.C Designs. I made three monochrome cards with a similar design so once you start the process you can mass produce these for any occasion. Make Crafty Friends Q & A: Q: Can you do any of the Roaring 20s Dance moves? The Charleston? The Fox Trot? Black Bottom? Texas Tommy? A: Me? I can do the Charleston Let's start with the finished cards so you know what we will be creating.       Step #1: Die...
Posted by DESIGN TEAM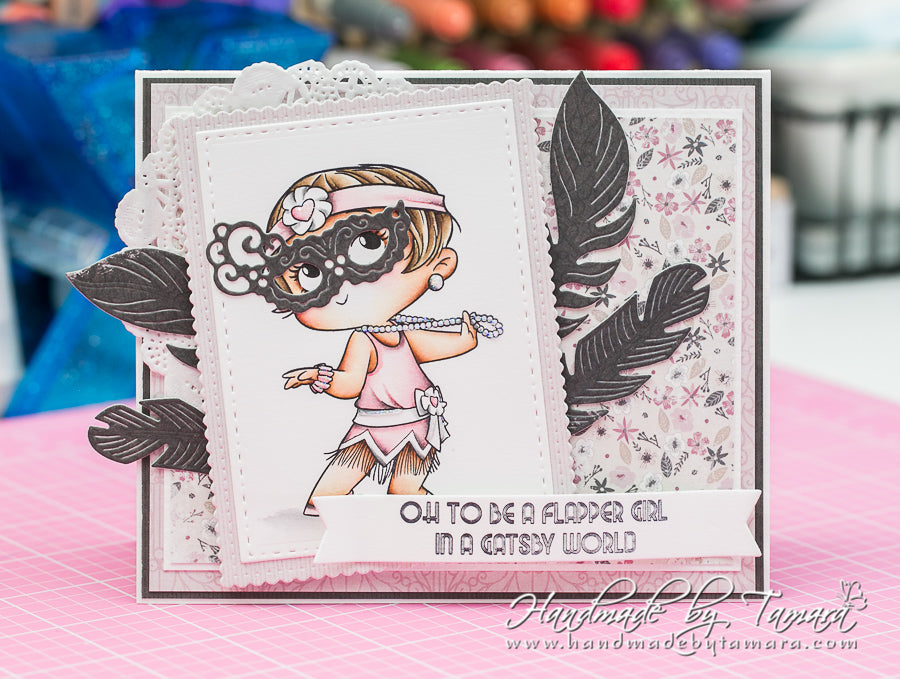 Hi! Tamara here with you sharing a short tutorial on how to decorate the inside of the card.  What you need to make this card: design paper white cardstock scissors glue score board C. C. Designs items used: 20'Gals clear stamp set Borders die Rectangle dies Scalloped rectangles dies Step 1: I made a 4 5/8" x 5.5" white card base.  Step 2: Cut 5 3/8" x 9 1/8" rectangle from design paper. I used solid pink. Make a score line down the middle.  Step 3: Make two markings 1" on each side of middle score line. ... and 1.5"...
Posted by DESIGN TEAM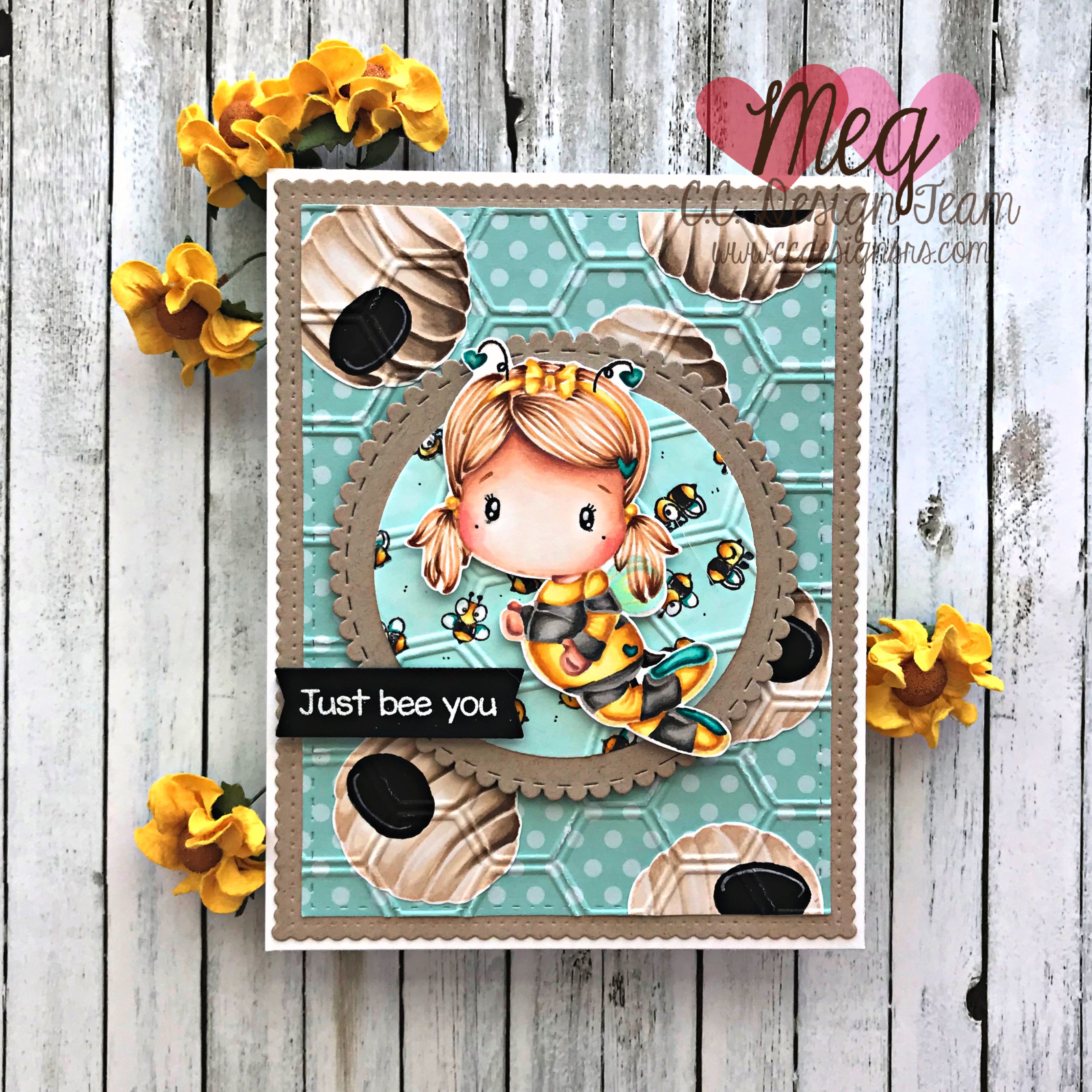 Hello! It's MEG here today with a tutorial (really, tips - just some things you may not have considered before) on creating your own design paper using stamps. For this project, I've used the new Bee Swissie clear stamps. Our little Swissie comes with some accompaniment stamps, which is what brings the magic to this design. I've also used the new Rectangles dies and Scalloped Rectangles dies (great for layering). In my project, there is only 1 piece of actual design paper (the blue dotty paper). But it looks like there are several, yes? Here's what I did. First, I...
Posted by DESIGN TEAM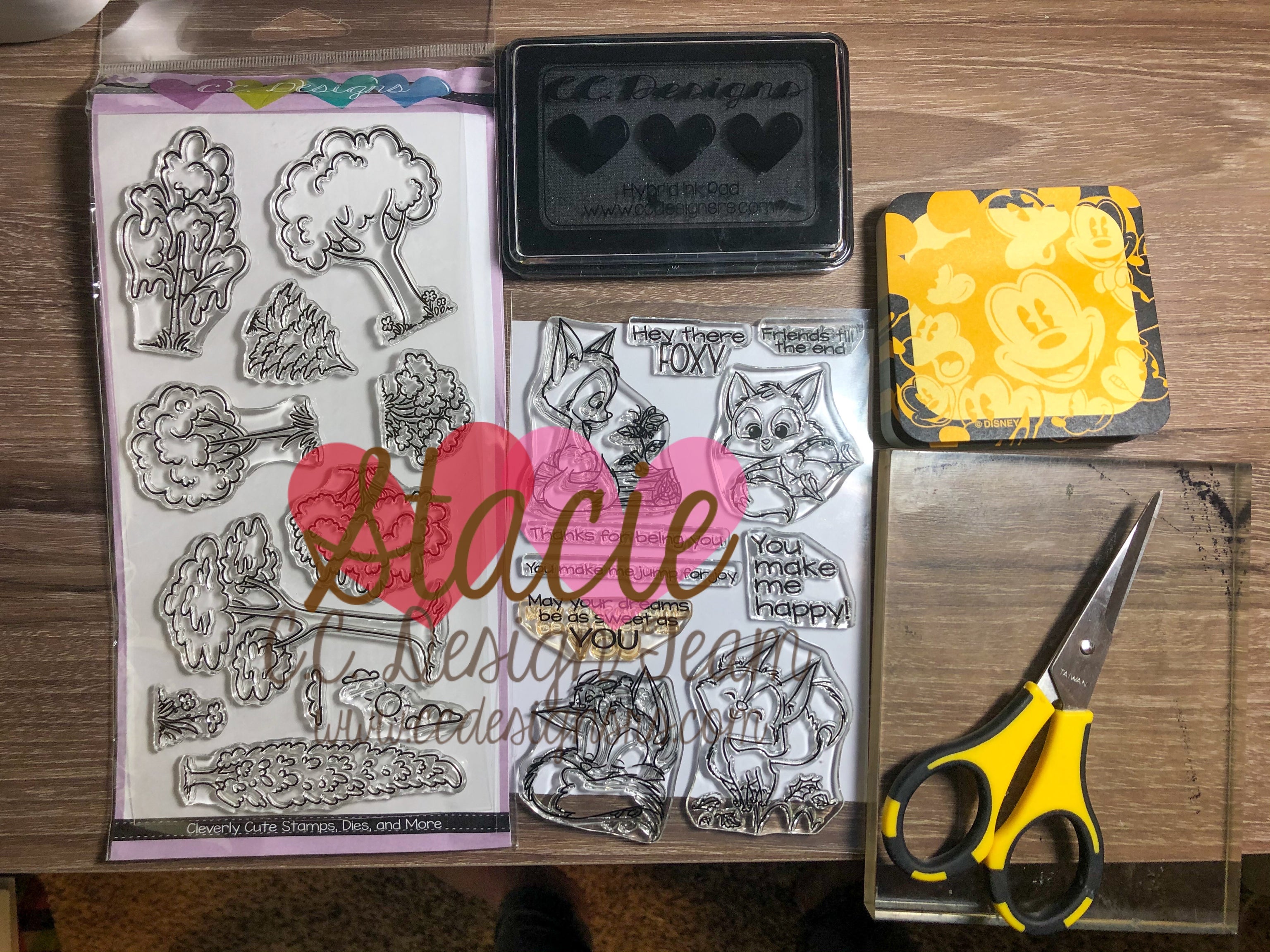 How to layer stamps to create a sceneFirst gather your supplies, I used:Foxes Clear StampsCreate a Scene Clear StampsBlack Olive Hybrid InkPost It NotesSharp scissorsClear stamp block Next stamp the image you want in front on your paper you will be coloring on and also onto the post it note.  Be sure you have you image high enough on the post it note That you have some sticky left after cutting.  I have also used post it note tape if my image is small enough! Next fussy cut your image on the post it note. You don't have to cut...
Posted by DESIGN TEAM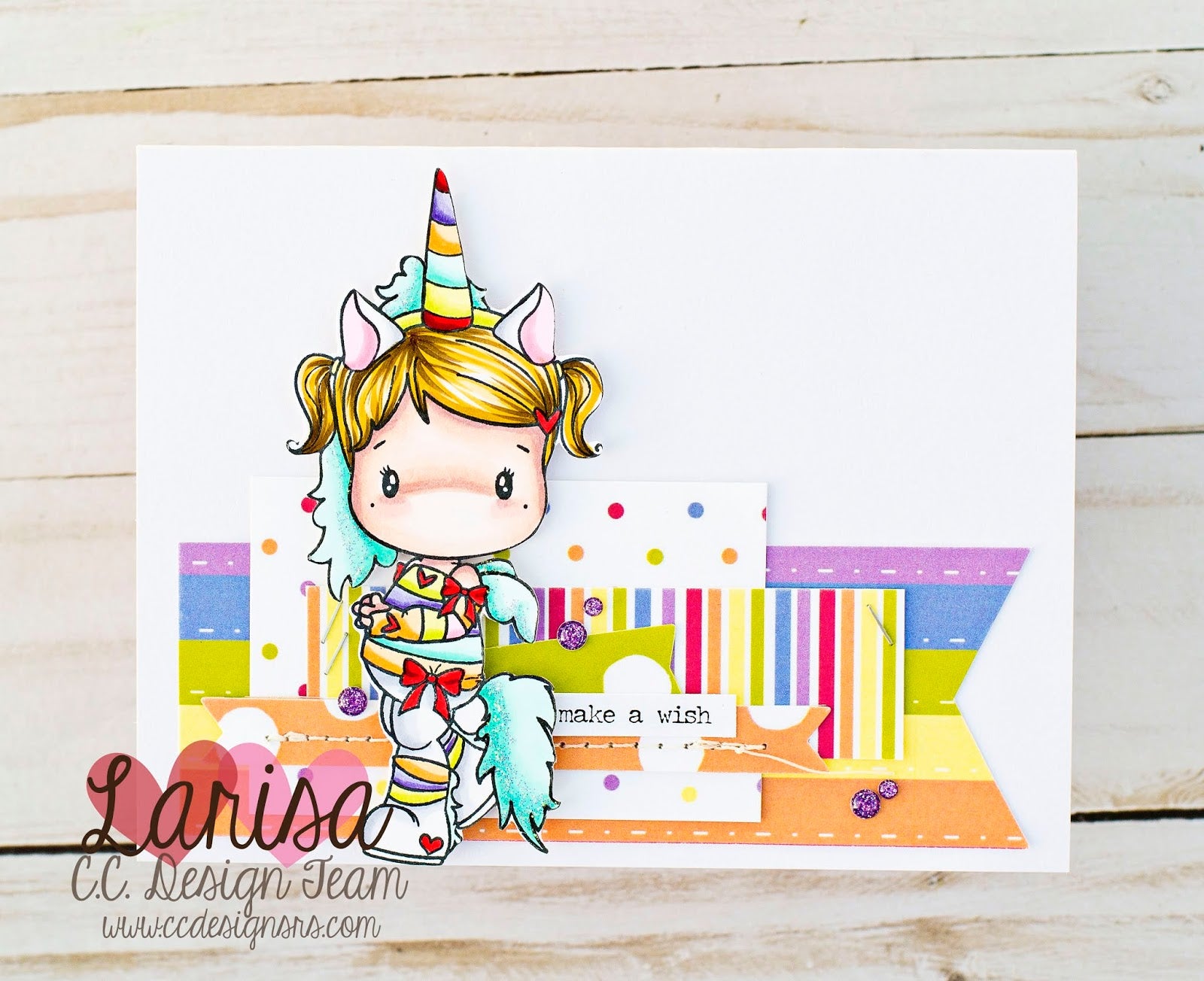 Hello, Larisa here.  Today, I'm here to share a fun little tutorial on how to use your scraps to create quick and easy cards.  This is a great way to use up your left-over paper and create a bunch of cards fast!   Step 1: Start with a bunch of scraps. Step 2: Trim Scraps into rectangles and squares of various sizes.  Make sure the edges are straight.  You can use the banners die as well to create little fish-tail flags.   Step 3: Begin layering pieces together.  Use your scissors to create a fish-tail on one side of your...
Posted by DESIGN TEAM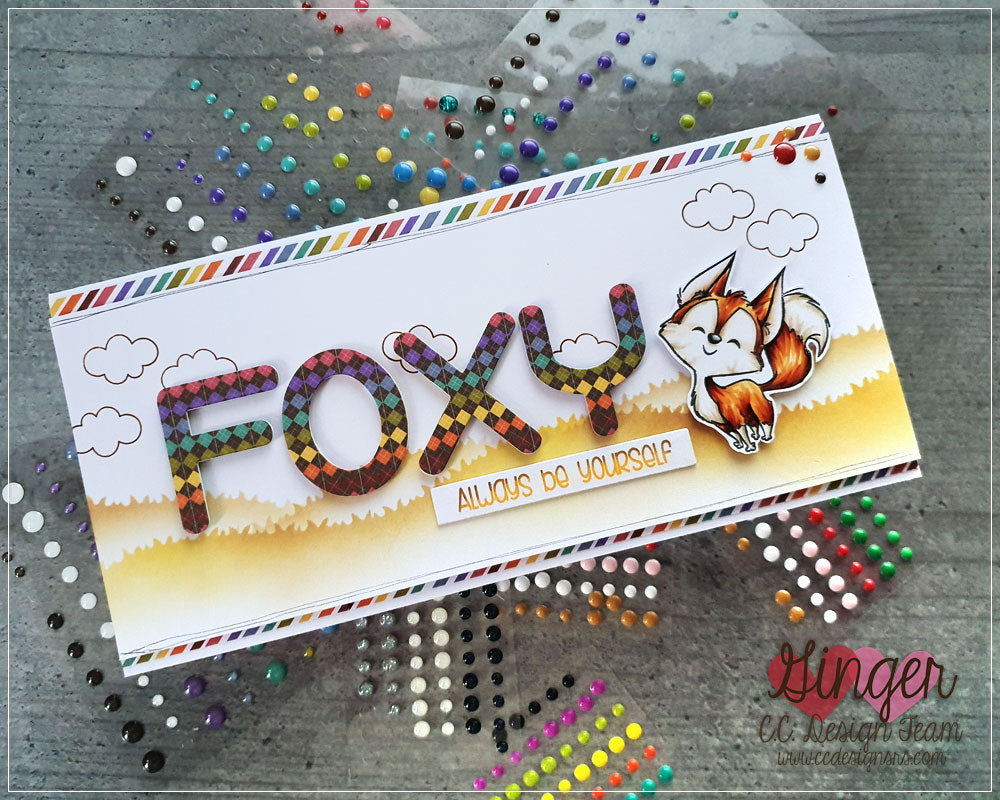 Hello! Today I show how I made the background for this map. I have chosen the grass and clouds stencil and warm colors. Even if I fix it with magnets, I still hold it with my fingers for a while. Then I go with the brush on one of the stamp pads and then with circular movements and without pressure I wipe over the stencil on the paper. As I clean the brush at the end I take one for both colours and change back and forth. The stencil is not long enough, but you can easily put it back...
Posted by DESIGN TEAM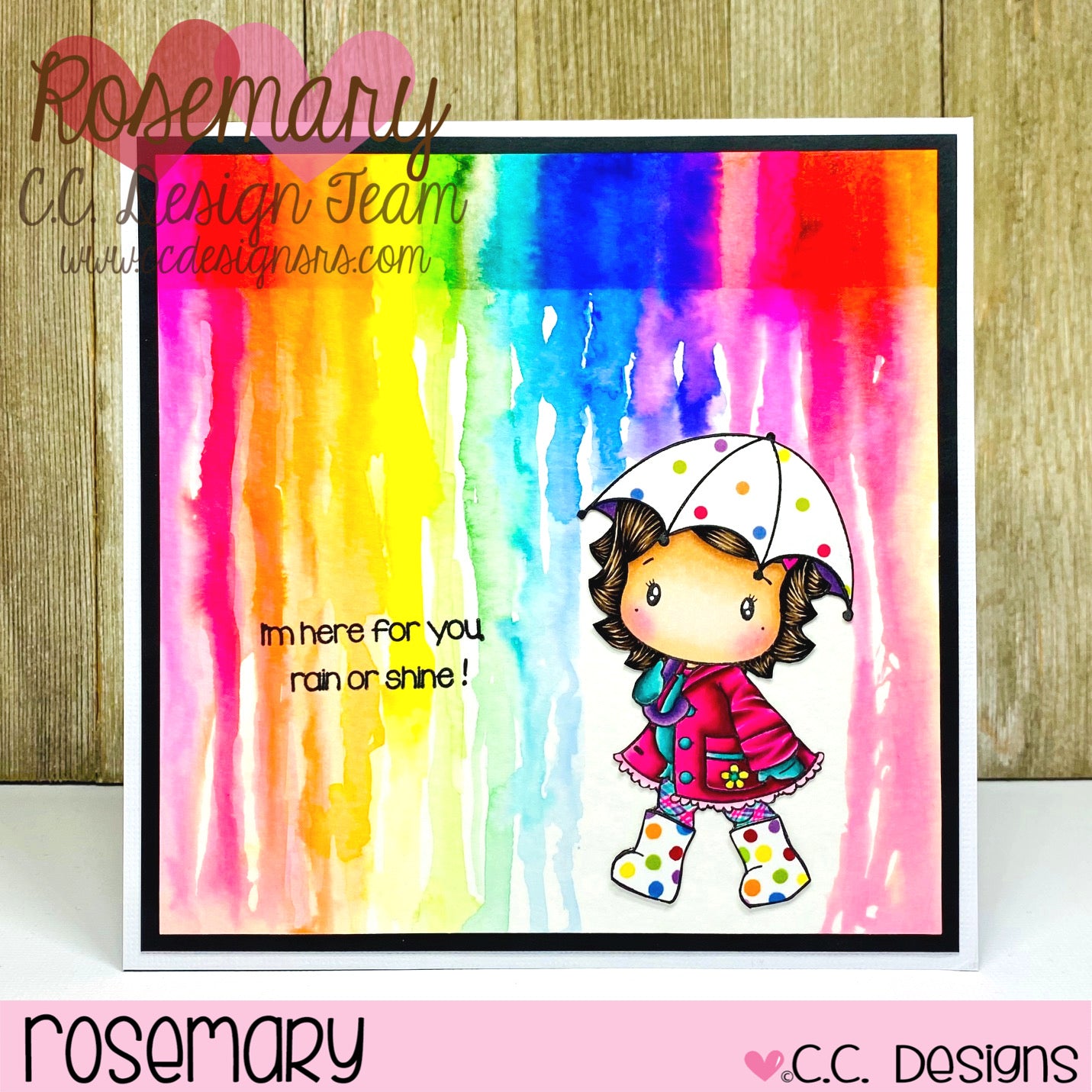 Happy Tuesday everyone! It's DT Rosie here today to share the details on how I created the watercolor rain background for this Umbrella Swissie card that I showcased a couple of weeks ago. I remember a few years ago there were a ton of crayon melting tutorials going around creating "rain" around a silhouette of a person holding an umbrella. I knew I wanted to recreate something like that when I saw this umbrella image. A lot of my craft stuff is still in boxes from moving, and I haven't yet located my stash of crayons or my heat gun....
Posted by DESIGN TEAM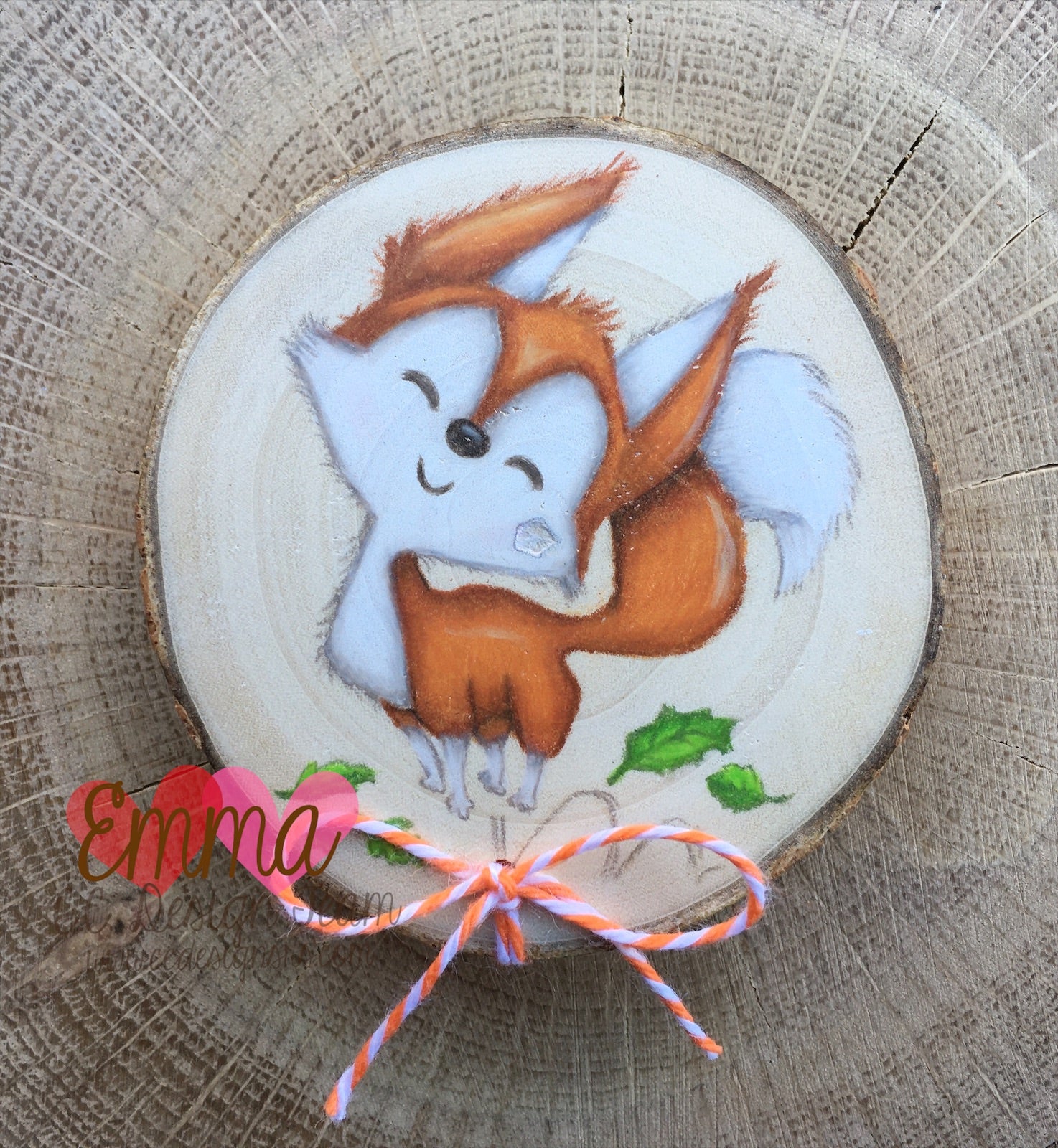 Hello lovelies I have a quick and easy tutorial to share with you today on how I made my super cute wood slice magnets. Step 1: Gather your supplies. I used a 3" wood slice made of pine, Ink on 3 Fadeout ink but any light coloured ink would work, Prismacolor pencils and the gorgeous NEW Foxes clear stamp set.  Step 2: Make sure your wood slice is smooth! You don't need to prime it but if your wood is rough it will need to be sanded down first. Stamp your image directly on to the wood and then begin...
Posted by DESIGN TEAM
Hi Crafty Friends, I have a FUN Easter Tutorial for you today! Let's make some Easter Baskets! All you need is ONE sheet of 6x6 Paper. It takes maybe 5 minutes to make these darling little treat baskets and you can decorate them in so many ways! I'm using C.C Designs NEW 6x6 Easter Paper Pad and Tiny Easter Stamp Set.      Step 1: Pick out your 6x6 paper and score the paper at 2" and 4", turn your cardstock, and repeat.     Step 2: Cut each of the corners off   Step 3: Cut into the 2...