Posted by CHRISTINE WOODEN
We are on day 3 of previews, this is the final day. The new products will be available tomorrow at noon.  Fairies is our newest clear stamp set that is a 4"x8", this is a big set with lots of pieces. It has 4 little fairies, 4 sentiments, and numerous flowers and bugs.   Card #1 I used Trio Collage Die for the light pink base, and then I layered with cardstock and pattern paper. I cut and layered the saying, stamping it with our new Black Olive Ink. I added the fairies and flowers from the Fairies Clear Stamp...
Posted by CHRISTINE WOODEN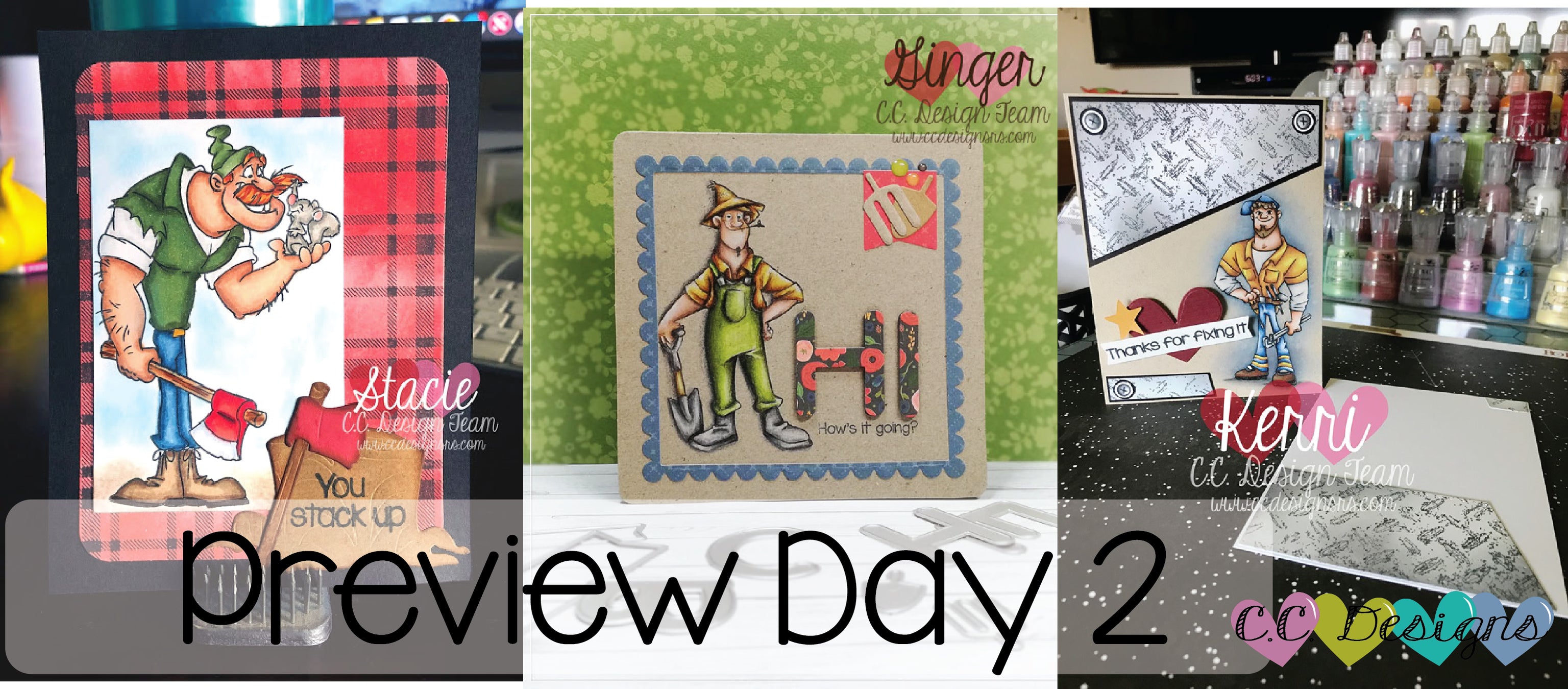 Welcome to day two of previews, have I got fun new images for you! I had Roberto draw 7 guys doing guy things, including fishing, holding flowers and more. Then I drew up 4 coordinating dies to go along with the dies. An A2 background die of metal rivet, and a Plaid Background Rubber Stamp. SOME OF OUR DESIGN TEAM MEMBERS ARE ALSO HAVING PREVIEWS TODAY ON THEIR BLOGS-    Jessie Stacie Ginger Kerri  COMMENT ON EACH MEMBERS POST AND THEN COMMENT ON THIS POST TO LET US KNOW THAT YOU COMMENTED. ON THURSDAY, ONE WINNER FROM ALL THE COMMENTS WILL...
Posted by CHRISTINE WOODEN
Hello, and welcome to day 1 of our July previews. Today we are previewing the next installment of our bi-monthly releases. It is a clear stamp set that has coordinating Outline Dies that you can purchase separately.      Card #1 features the adorable bunny with the pencil, I just love his little glasses. I used Sugar Cookie Ink to stamp the pencils and did no-line coloring. Sugar Cookie Ink is a nice light color that is perfect for no-line coloring, I had this color created just for the no-line coloring. Once I got the pencils colored I then layered...
Posted by CHRISTINE WOODEN

We are on the last day of our previews. The new release will be available tomorrow at noon cst. Today we have 2 rubber stamps by Roberto, Business Don and Nurse Sue. Both stamps are attached to ez-mount foam, contour cut, and ready to be used.  There is also a new clear stamp set called Thank you Sentiments. I paired the stamp set with Nurse Sue. It worked perfectly with Nurse Sue to create a wonderful Thank you card.   To create the card I started with red card base and then cut out white cardstock wth the In &...
Posted by CHRISTINE WOODEN

It's day 2 of our previews. The new release will be available March 7th at noon cst. We have a new background stamp this month, Paw Print Background. This rubber stamp that is attached to foam, coordinates perfectly with our Barky Set but also our Puppy Power and Cutie Cats Clear Sets. You can see it used on the card below. Card #1 is a sweet little pup asleep in her bed. I actually saw this sentiment on a bumper sticker and just thought it was the cutest, so I had to add it to this set.  I used the biggest...
Posted by CHRISTINE WOODEN
Welcome to the March Preview Days. We have 3 days of previews to show you before the release on March 7th at noon cst. There is a grand prize giveaway right here on the blog, you just need to comment on each day and each Design Team members blog. And then we have gift certificate giveaways each day in the Facebook Group. This month we have a new die called Bow Die. With this die you can make 2 different size bows. The big bow is 2" and the small bow is 1.5" assembled.  The card below is using the...