C.C. Blog
Posted by CHRISTINE WOODEN
When Roberto drew our Dragons Stamp Set, I knew I needed him to draw us Unicorns. And now they are here! I have to say these 3 are just the funniest little unicorns around. Card 1 uses the prancing unicorn. I colored him in blues and greens, and cut him out with the Outline Die. The horn has some stickies on it to give it a little shine. I used the new rubber stamp Cutie Doodles Background stamp. Which I stamped in Memento Ink. I used the In & Out Rectangle Die to make the shaker card. I used some...
Posted by CHRISTINE WOODEN
Day 2 brings us the cutest little bugs ever! They were so fun to color and create cards with.  Card 1 has the bumblebee bug. I colored him up with Copic Markers and added Stickles to the wings. I cut him out with the Cutie Bugs Outline Die and attached him to the In & Out Oval Die. I used the Honeycomb Stencil with matte embossing paste to make the background. I scooped out some of the paste and then sprinkled glitter on it. I mixed it up a little bit before I smeared it on the stencil Lately I...
Posted by CHRISTINE WOODEN
I have so many fun, new products for this month. Today through Thursday myself and the team will be previewing cards from the new January release that will be available on Thursday, January 10th at 12:00pm CST.  The first card is the new rubber stamp, Butterfly. The card also features the new In & Out Rectangle Die. I colored her with Copic Markers, including the grass feature at her feet. I cut her out with the In & Out Rectangle Die, I also used the die a second time to cut out the pink outer frame. The new In & Out Dies let...
Posted by DESIGN TEAM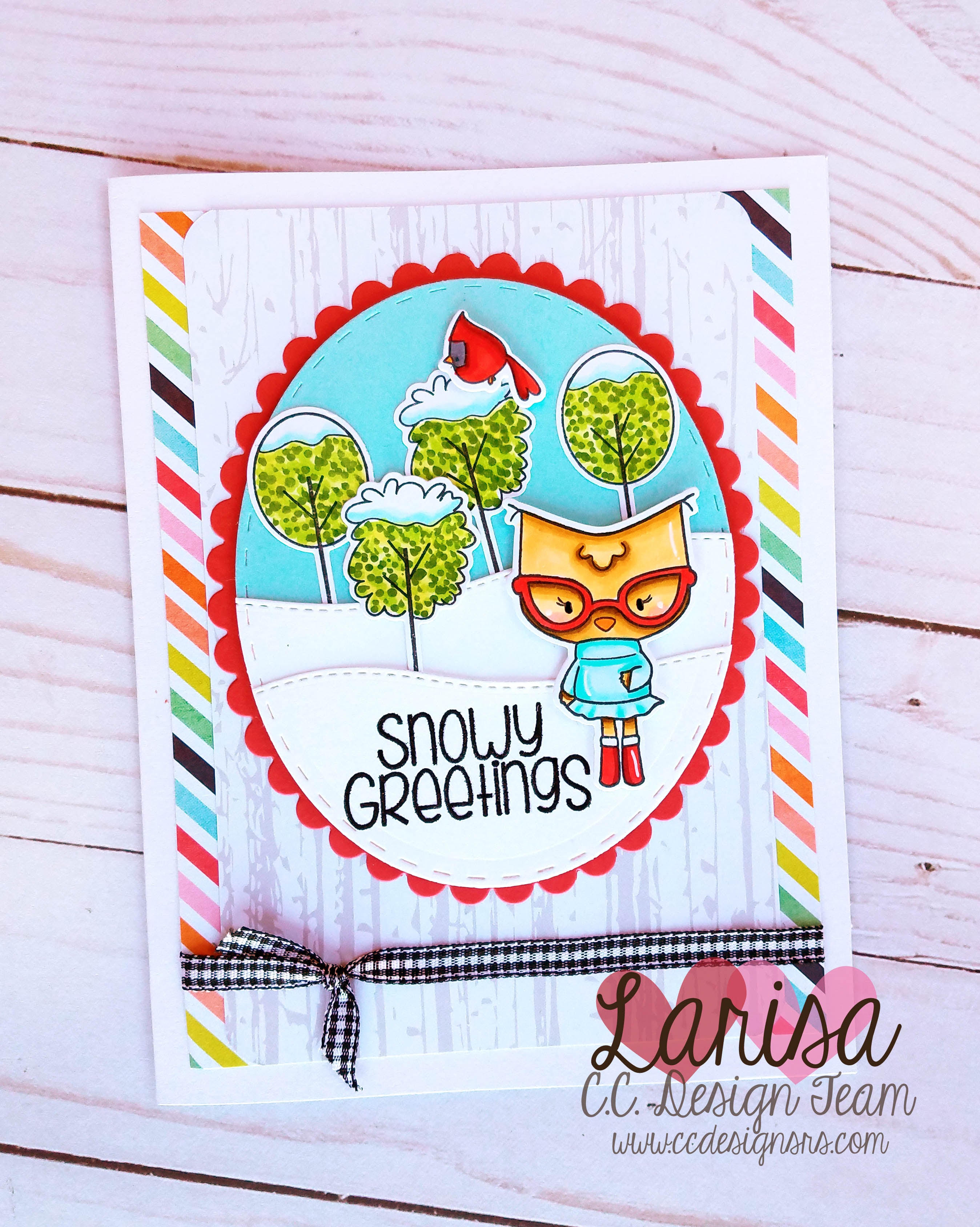 Hello!  Larisa here sharing a sweet little winter card featuring the NEW Coffee & Cookie Clear Stamp Set with Coordinating Dies.  I just love how versatile this set is.  It can be used for so many occasions!   For my card, I combined the little owl from the Coffee & Cookie Clear stamp set with the trees and bird from the Build A Snowman Clear stamp set.  I created some snow drifts, tucked in my trees and stamped out my sentiment.  Then I colored up my owl to look like a chicken and popped her on top with some foam tape. ...
Posted by DESIGN TEAM
This month at C.C. Designs we had some awesome dudes join the group!! Rocker Boys!! I am sharing one of the pair- Is this a handsome fella or what!!?? Here's a list of Copics I used- Skin- E13, E21, E00, E000, E0000, V01, BV00 Hair- E11, E23, E25, E27, E29 Clothes- YG45, YG41, BG10 C7, C5, C3, C1 I also used Dragons Dreams enamel dots from the shop! Boy cards are a little more difficult for me, it's hard to keep it masculine!!  LOL!!!  I really love how this turned out though!! Thanks for stopping by!! Rachel
Posted by DESIGN TEAM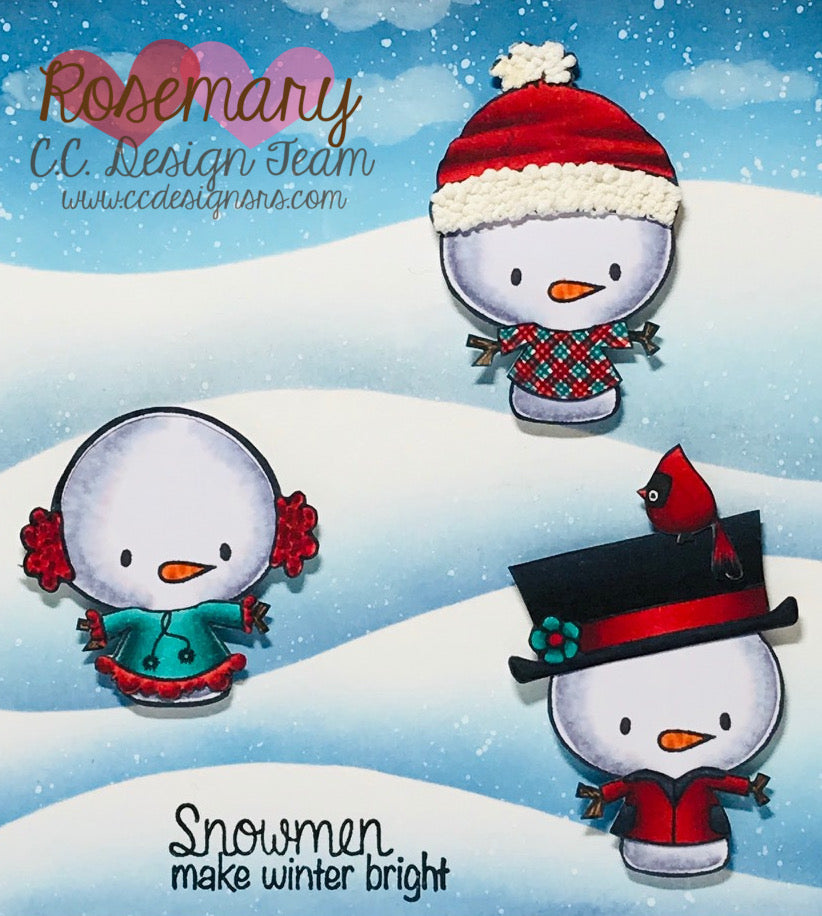 Happy 2019 my friends! I pray that this year brings you peace, happiness and joy! It's Rosie here today sharing this card featuring C.C. Designs BUILD A SNOWMAN. I love this set from the December Release. We had 3 new sets last month that definitely need to be a part of your collection. Be sure to head over to the C.C. Designs Store to pick up yours today.     These snowmen are so adorable and cute. I think the various outfits are an awesome idea. This set reminds me of those old paper doll kits where you could cut...
Posted by CHRISTINE WOODEN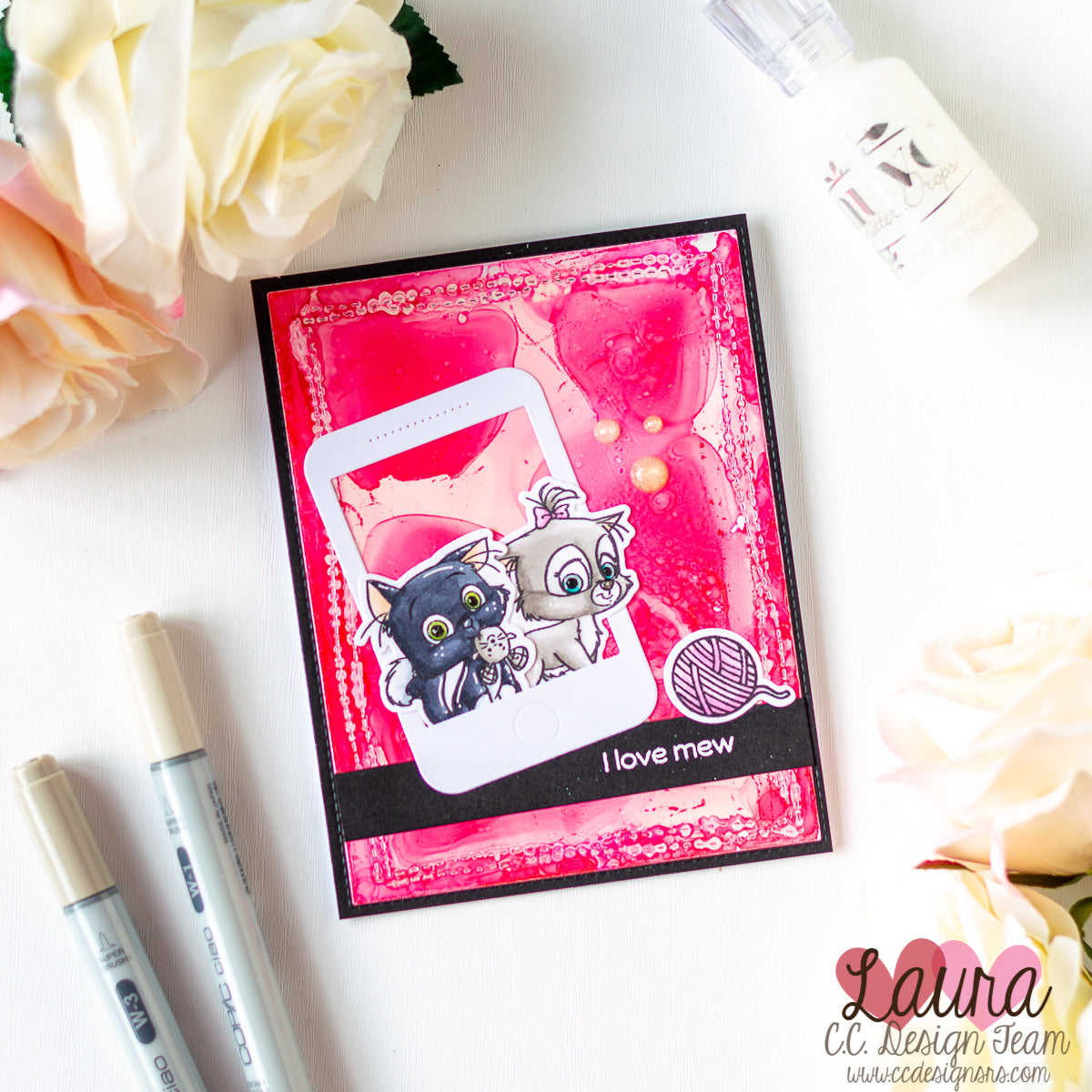 Hi everyone! The time for Christmas cards is now over, and today I am back with some Valentine's day inspiration! I created two sweet cards using the same design, one featuring some cute kitties and the other some adorable puppies - just perfect for the animal lovers out there! As a first step I stamped my images with My Favorite Things Black Licorice Hybrid ink and colored them with Copic and Spectrum Noir markers. The kitties are from the Cutie Cats stamp set, and the puppies from the Puppy Power stamp set. Once I was done coloring I used the...
Posted by CHRISTINE WOODEN
Hello and Welcome! I have decided to move the blog to our website, so that the regular Blog and Challenge Blog are in one place. Make sure to subscribe to Bloglovin' to follow us and stay in the loop on new blog posts. The Bloglovin' link is in the upper right hand corner of the blog. You can still view past blog posts on our old blog C.C. Blog.    Thank you for stopping by- Christine