Posted by DESIGN TEAM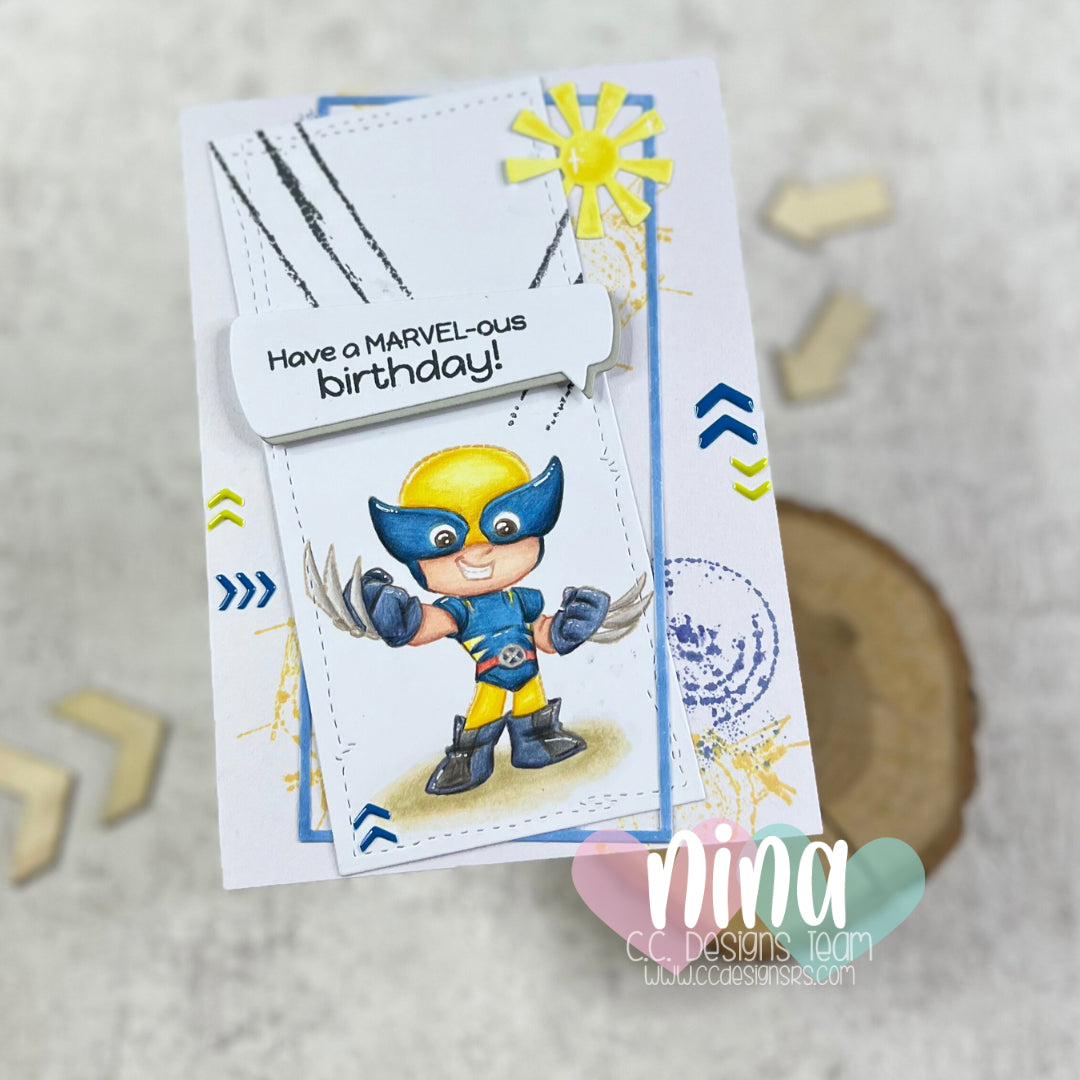 Hello my dear crafty friends,  today I want to show you my Marvelous Birthday card.  For todays card I choose the cute wolverine stamp from "Marvelous" Stamp Set. I coloured it with Copics and Polychromos, then layered two different Cardbases, diecutted with Gummiapan dies.  Some background stamps and Enamel dots later the card is finished.  I hope you like my new inspiration with the amazing Stamp set.  Check out my channels for more inspiration: Instagram: Ninas_Kreativreich YouTube: Ninas Kreativreich Crafty hugs,  Nina 
Posted by DESIGN TEAM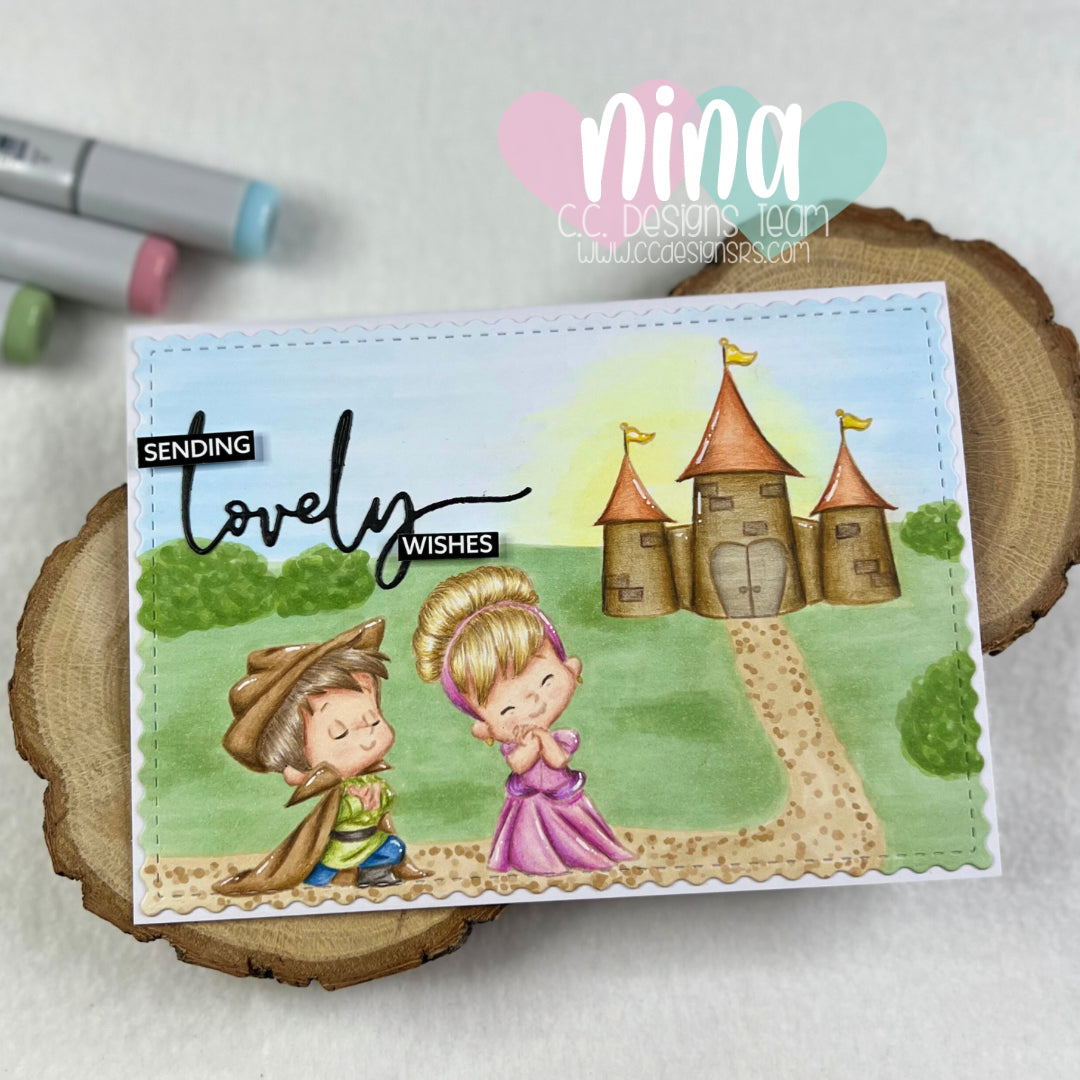 Hello dear crafty friends! Today I want to show you my magical scene with the cute princess and prince.  I stamped the cuties and the castle with Memento Desert sand and coloured the whole card with Copics and Polychromos. Check out my channels for more inspiration: Instagram: Ninas_Kreativreich YouTube: Ninas Kreativreich   Crafty hugs, Nina
Posted by DESIGN TEAM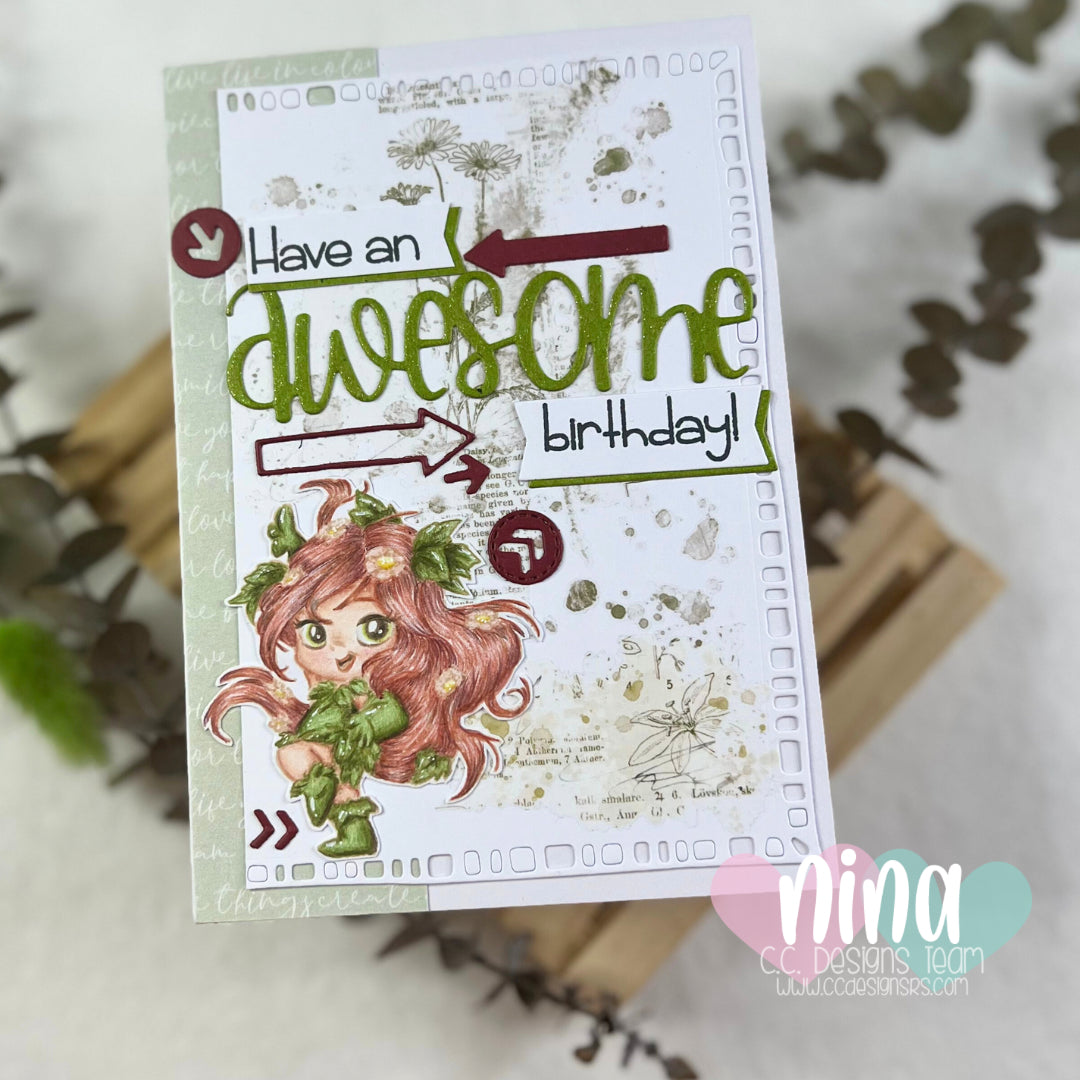 Hello dear crafty friends!  Today I want to show you my card with cute new Ivy stamp from "Villian" stamp set.  I designed a suitable background with rub ons and punched out the overlay with a cutting die from Moda Scrap. The Poison Ivy is coloured by Copics and Polychromos.  I divided the lettering and replaced the word "awesome" with a stamped lettering. I also punched out and glued on a few arrows as decoration.   Check out my channels for more inspiration: Instagram: Ninas_Kreativreich YouTube: Ninas Kreativreich   Crafty hugs, Nina
Posted by DESIGN TEAM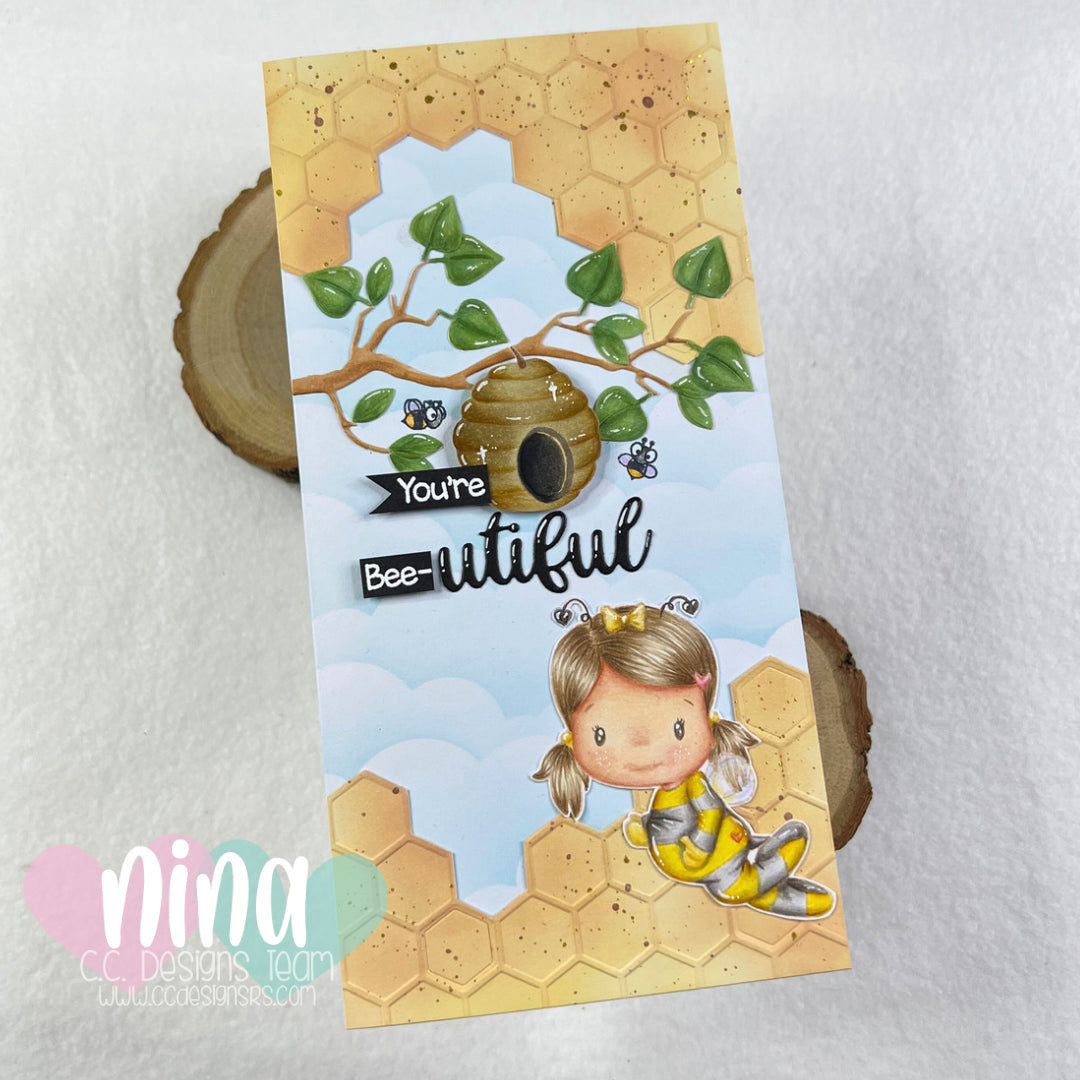 Hello everyone!  Today I want to show you my card inspiration with the cute Bee Swissie.  I created a scene with embossing folders, cloud Stencils and some matching decorations. The cute swissie is coloured with copics and Polychromos. I hope you like my card. Check out my channels for more inspiration: Instagram: Ninas_Kreativreich YouTube: Ninas Kreativreich   Crafty hugs, Nina
Posted by DESIGN TEAM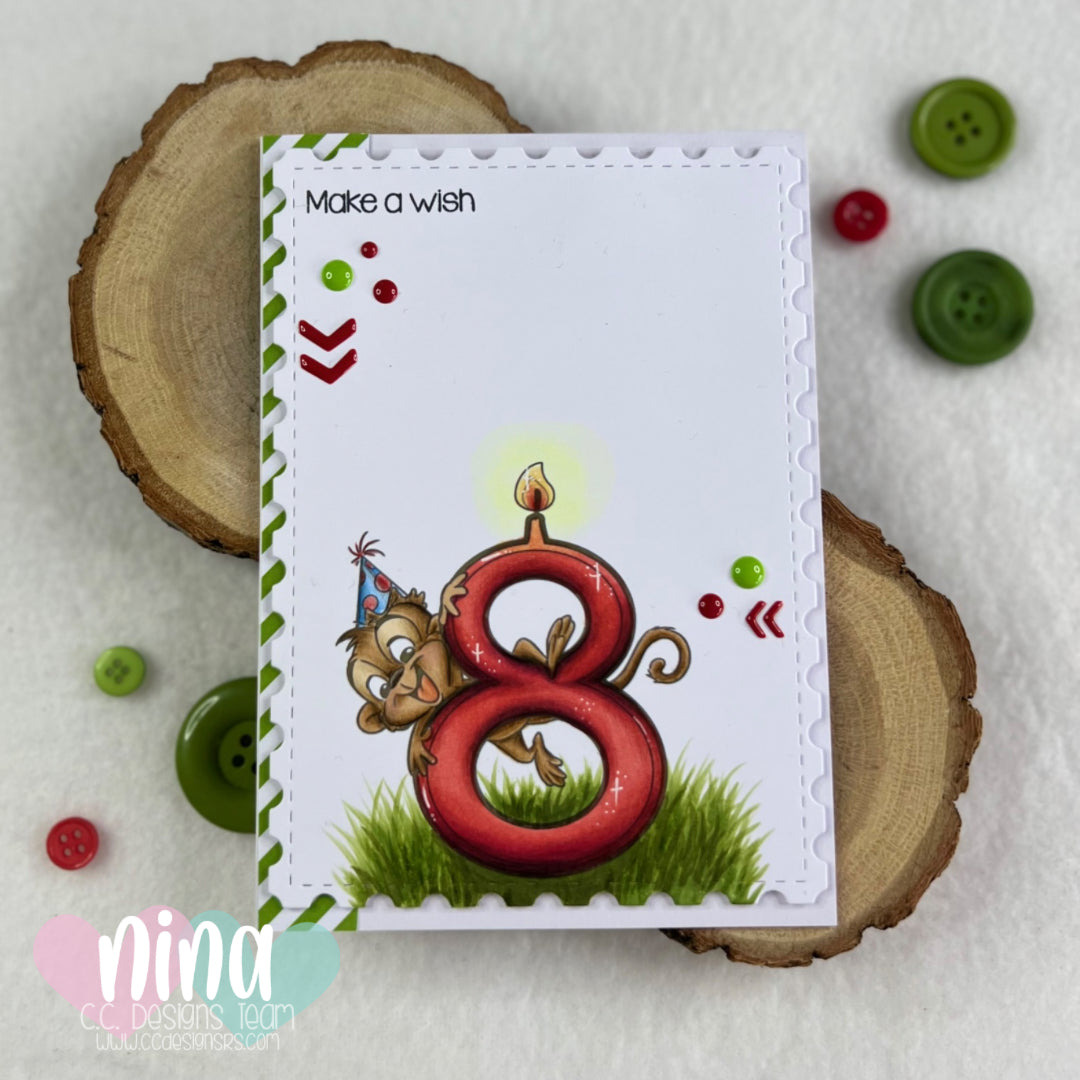 Hello everyone! Today I would like to introduce you to the great Digi Stamp "Birthday candles". I think the candles with the animals are so incredibly cute! I printed the Digi Stamp on colouring paper and colored it with my copics and polychromos. Then I diecutted the card overlay and glued it with 3D pads. In the background I previously glued a striped piece of design paper. A few enamel dots as decoration and a saying from the older stamp set "Birthday Slim Sayings" and the card is ready. I hope you like my inspiration. Get those Digi Stamps here.  Creative greetings,...
Posted by DESIGN TEAM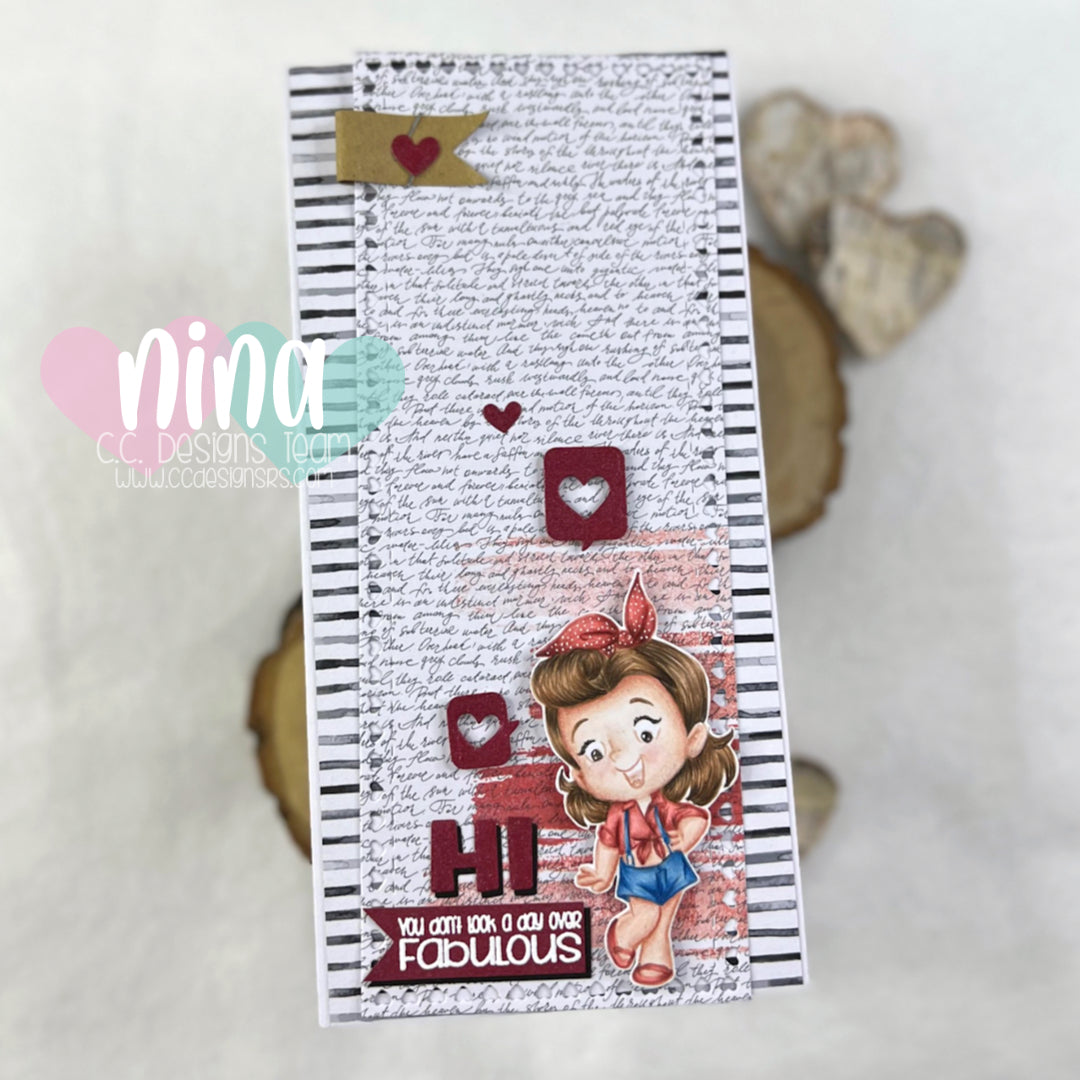 Hello, my dears! Today I have an inspiration for you with the cute girl from the Rockabilly Gals stamp set. I used two design papers as the card base. One of them is diecutted with an older CC Designs die and I stamped the background a bit.  I colored the cute girl in no line technique and glued her on with 3D pads. The "Hi" is from the film strip set and the saying is from the same stamp set. I embossed it white and cut a banner out of it. I used the speech bubble dies from Mama Elephant and...