Posted by DESIGN TEAM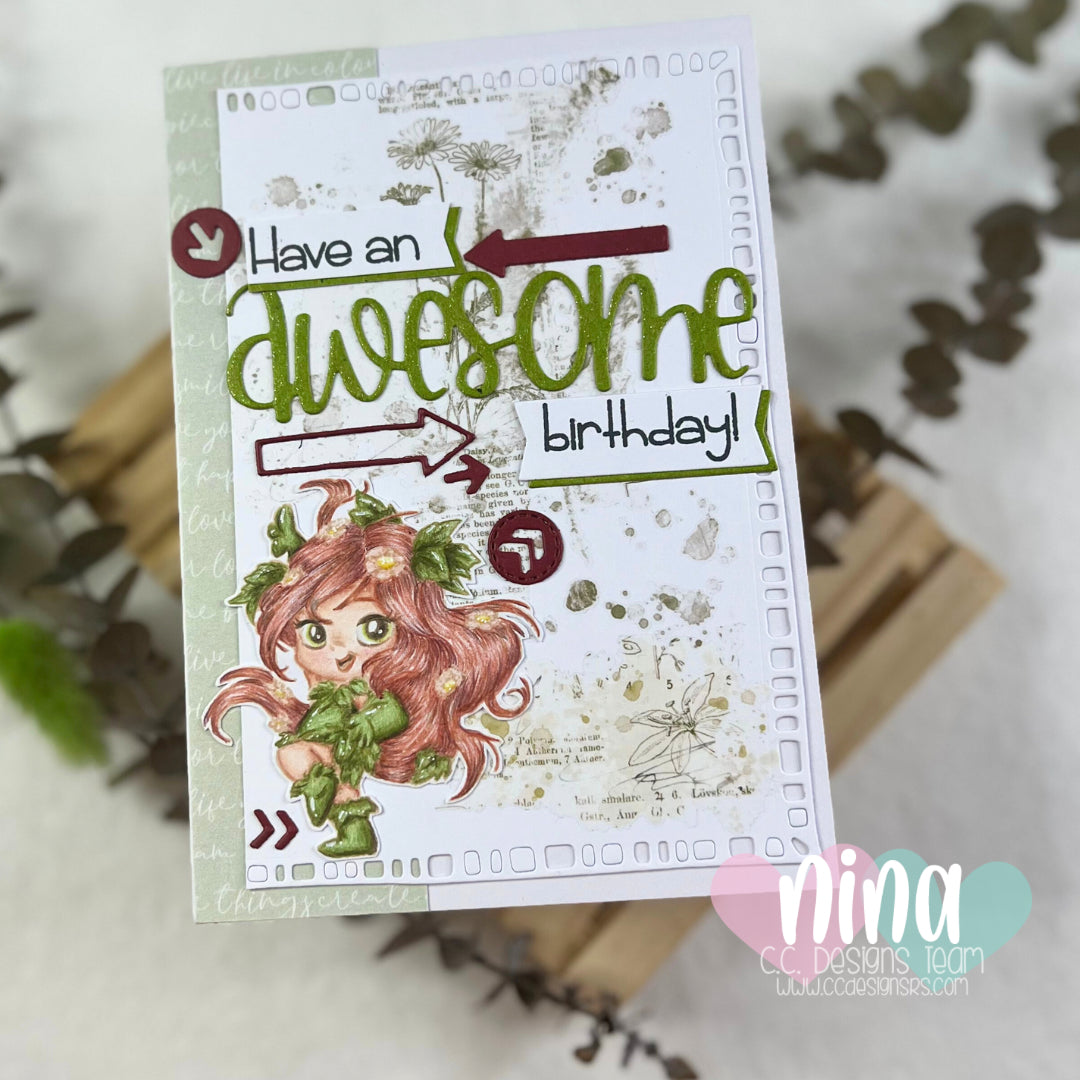 Hello dear crafty friends!  Today I want to show you my card with cute new Ivy stamp from "Villian" stamp set.  I designed a suitable background with rub ons and punched out the overlay with a cutting die from Moda Scrap. The Poison Ivy is coloured by Copics and Polychromos.  I divided the lettering and replaced the word "awesome" with a stamped lettering. I also punched out and glued on a few arrows as decoration.   Check out my channels for more inspiration: Instagram: Ninas_Kreativreich YouTube: Ninas Kreativreich   Crafty hugs, Nina
Posted by DESIGN TEAM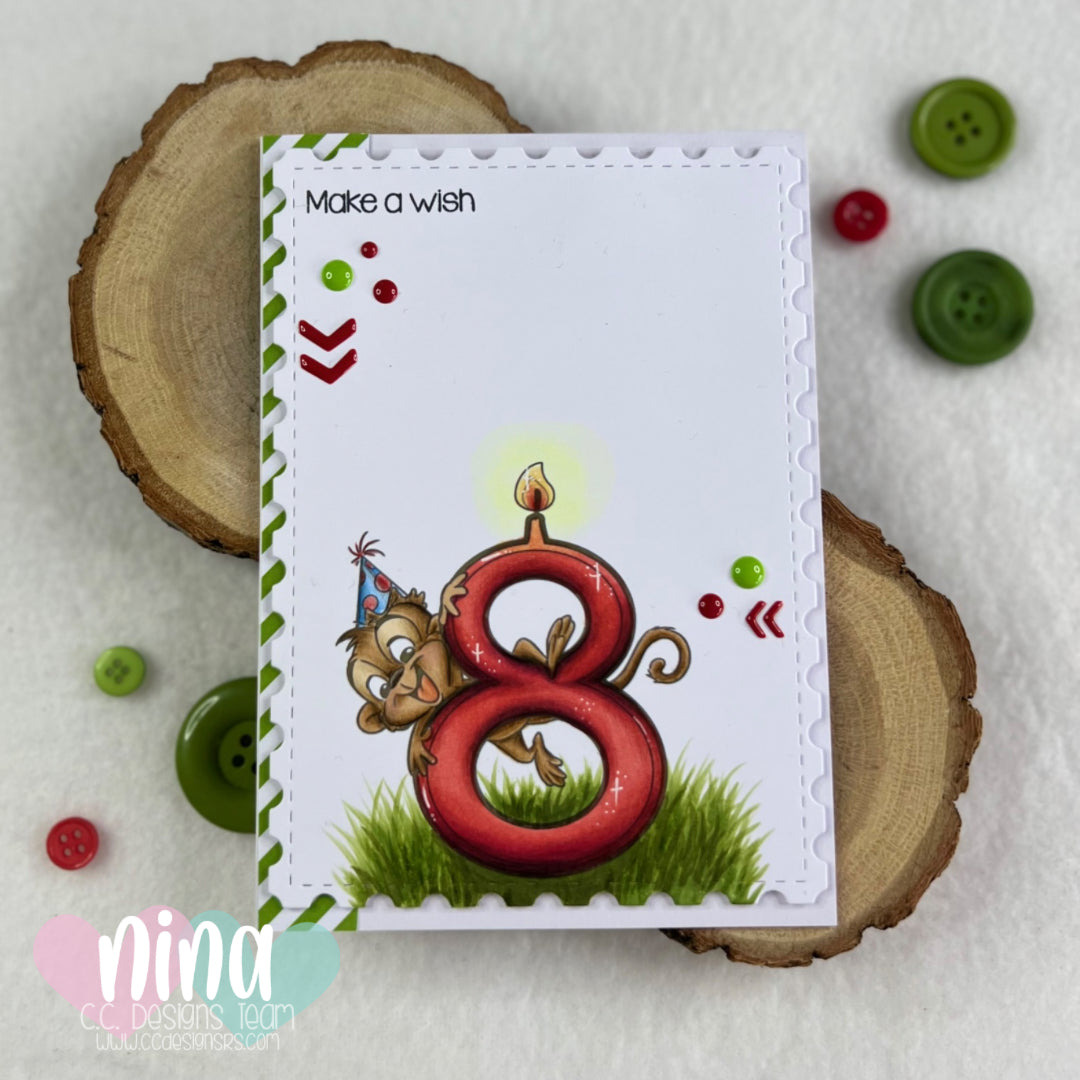 Hello everyone! Today I would like to introduce you to the great Digi Stamp "Birthday candles". I think the candles with the animals are so incredibly cute! I printed the Digi Stamp on colouring paper and colored it with my copics and polychromos. Then I diecutted the card overlay and glued it with 3D pads. In the background I previously glued a striped piece of design paper. A few enamel dots as decoration and a saying from the older stamp set "Birthday Slim Sayings" and the card is ready. I hope you like my inspiration. Get those Digi Stamps here.  Creative greetings,...
Posted by DESIGN TEAM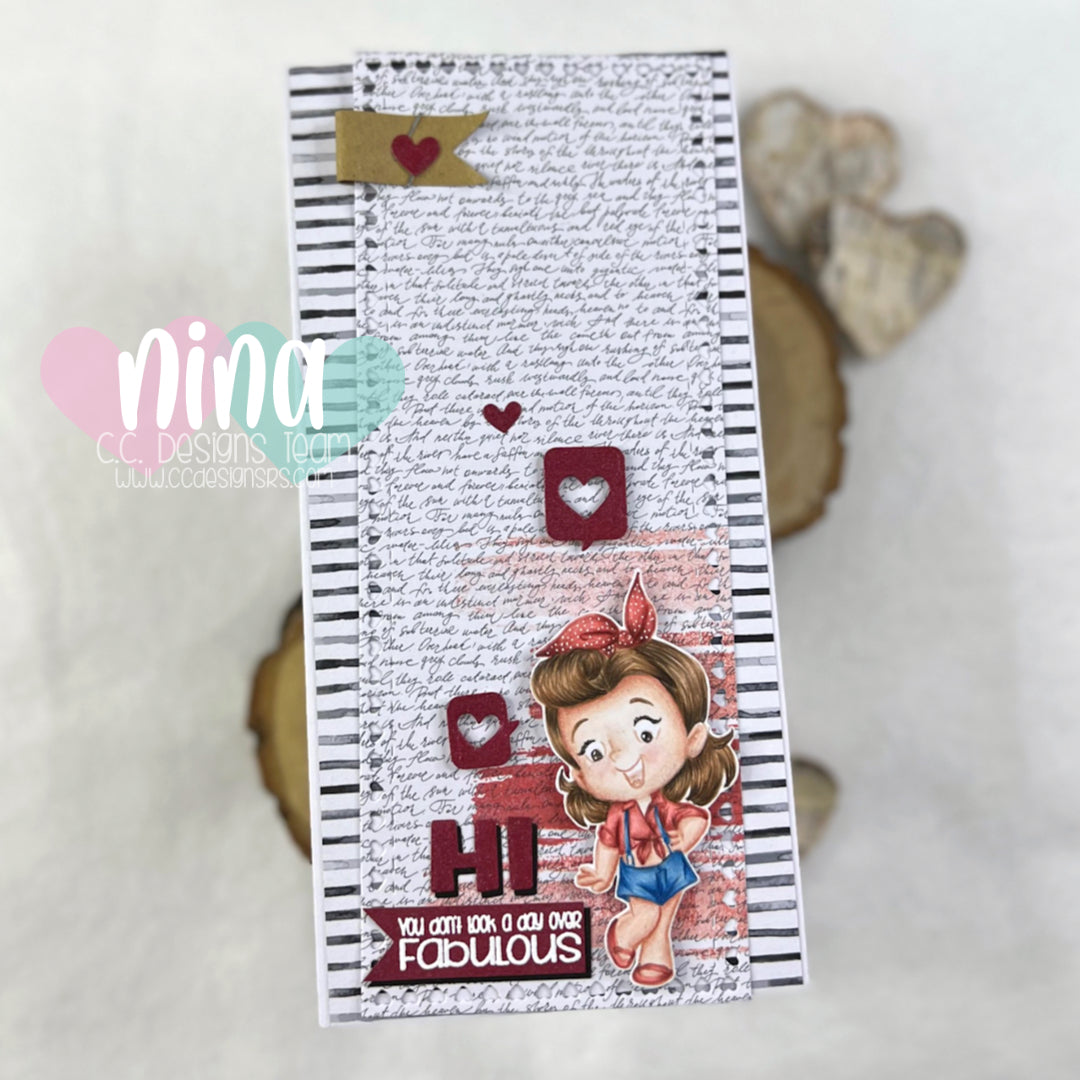 Hello, my dears! Today I have an inspiration for you with the cute girl from the Rockabilly Gals stamp set. I used two design papers as the card base. One of them is diecutted with an older CC Designs die and I stamped the background a bit.  I colored the cute girl in no line technique and glued her on with 3D pads. The "Hi" is from the film strip set and the saying is from the same stamp set. I embossed it white and cut a banner out of it. I used the speech bubble dies from Mama Elephant and...
Posted by DESIGN TEAM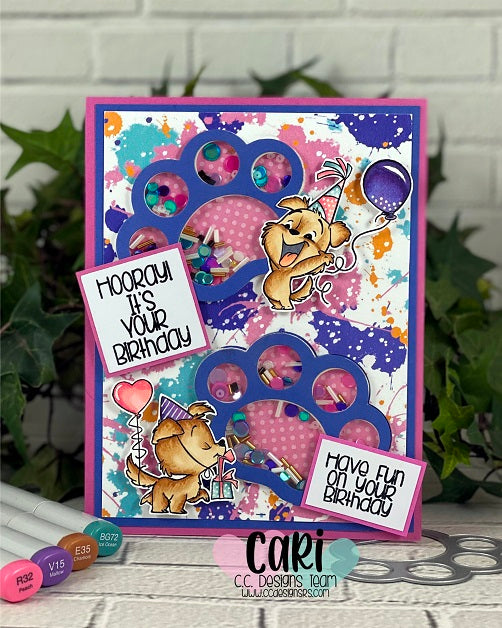 Happy Hump Day Fellow Crafters! I am showcasing a card today that features the PAW-sitively adorable pups from this month's newly released stamp set, Birthday Critters.  I think everything about this card screams a good time! I've included a complete list of products used at the end of this post.   To keep with the paw-ty theme, I included two paw prints that I made into shaker elements, and I used the brightest, boldest, loudest paper I could find.   The sentiments are included with the new stamp set. Thank you for visiting our blog.  I hope you liked today's card. Cheers, Carixoxoxo SUPPLIES:Stamps/Images:Birthday...
Posted by DESIGN TEAM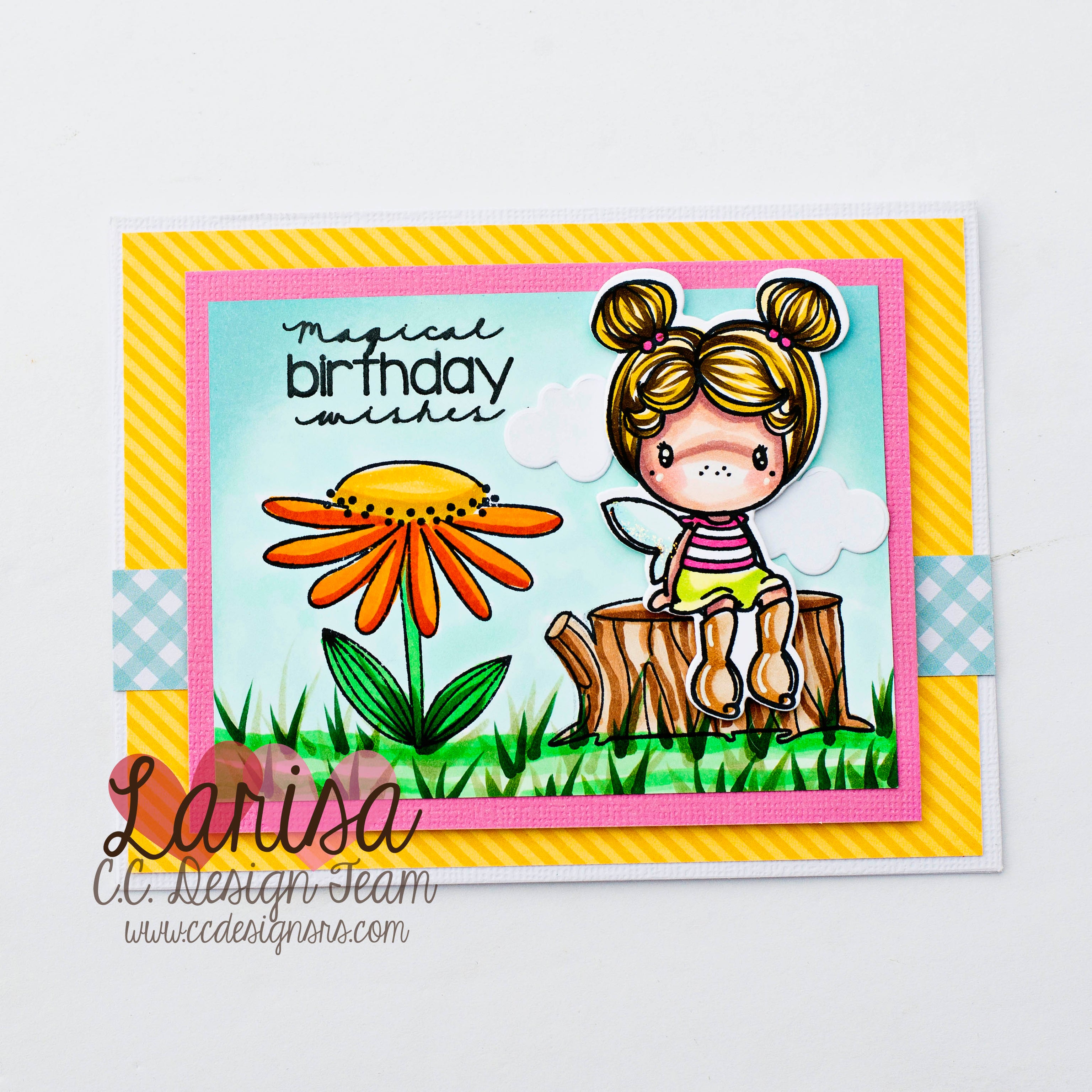 Hello!  Larisa here and today I'm sharing a sweet little card using the NEW Swiss Fairies and Fairy Scene stamps! These new stamp sets coordinate so well together; the possibilities are endless.   For my card, I started with a piece of white card stock.  I stamped my background images using The Fairy Scene Stamp Set.  Using Copics, I colored it up and die cut it into a small rectangle.  Then I stamped out my fairy image, colored her with Copics, and cut her out using the coordinating dies.  Using foam tape, I added her on top of the stump...
Posted by DESIGN TEAM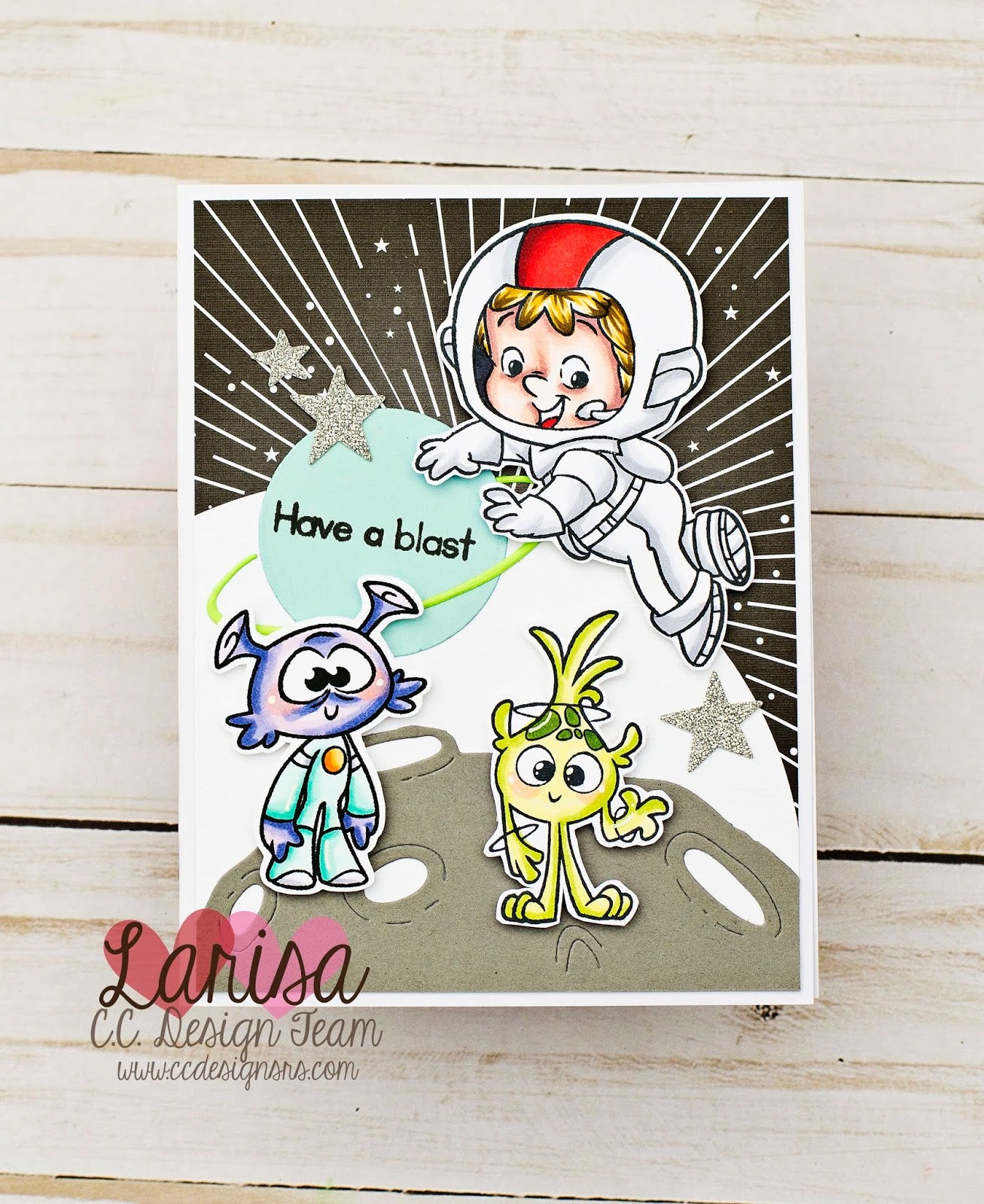 Hello!  Larisa here.  Today, I'm sharing a fun birthday card using the Astronaut & Aliens Clear Stamp Set.  This little card was such a snap to put together.  I started with some patterned paper from my stash and trimmed it down to fit my card base.  Then I used the Outer Space die set to cut a moon and planet.  I added those to the card and then popped my colored images on top.  And that's it.  Easy-peasy!   Card Details: Astronaut & Aliens: https://ccdesignsrs.com/collections/clear-stamps/products/astronaut-aliens-clear-stamps Outer Space Metal Die Set: https://ccdesignsrs.com/collections/clear-stamps/products/astronaut-aliens-clear-stamps
Posted by DESIGN TEAM
Hello, shortly before the end of the year there is also a contribution from me. This time with the great raccoon stamps. I kept the outside of the card quite simple, because... ...if you open it, that's what happens: It looks more complicated, but actually it's pretty easy to do. I've used these things among others: - Raccoons Stamps and dies- Christmas Paper Pad- Trio Collage (hearts)- Razzle Dazzle Shiny Enamel Dots Now I have only one thing left to say: I wish you a merry christmas and a happy new year. Hugz Ginger