Posted by DESIGN TEAM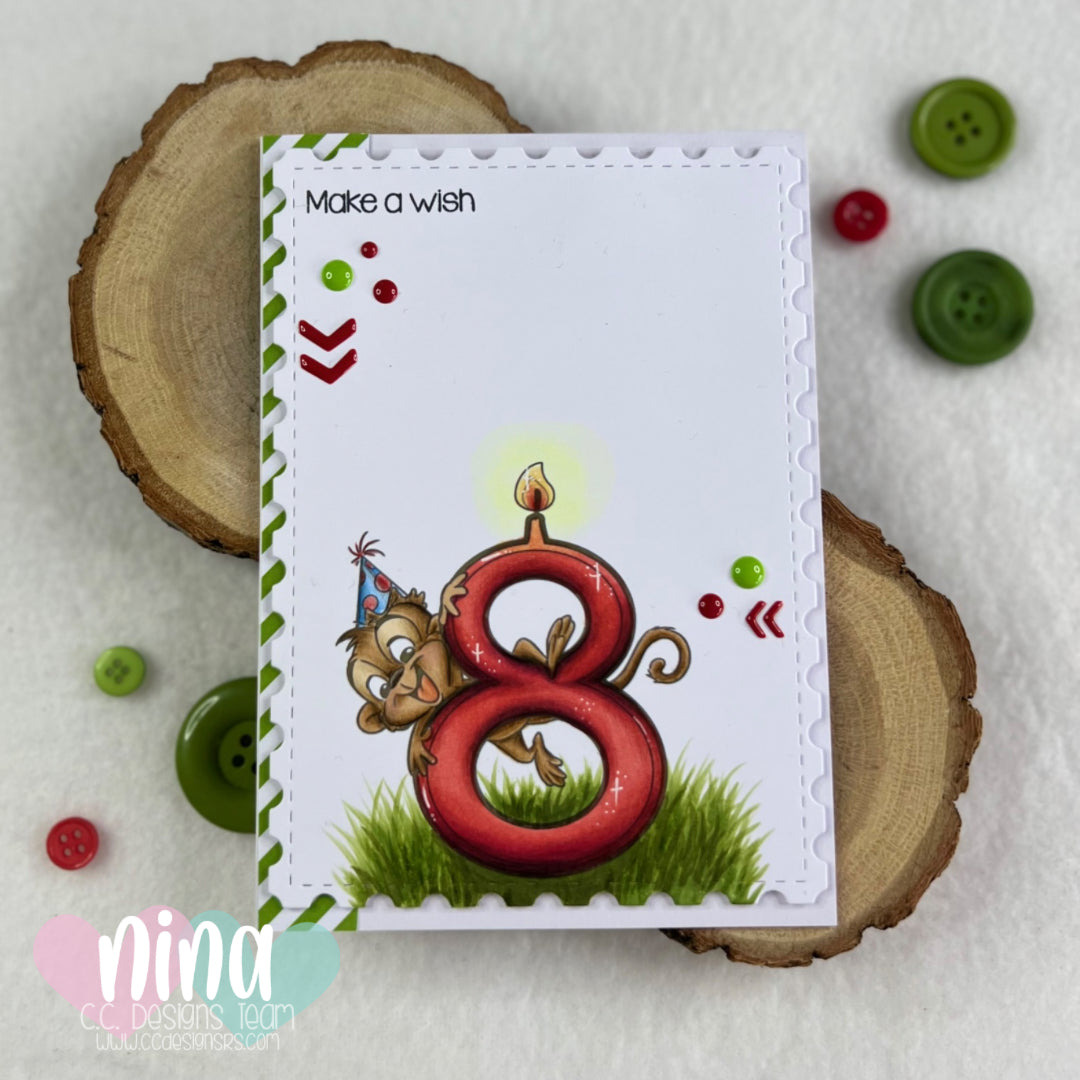 Hello everyone! Today I would like to introduce you to the great Digi Stamp "Birthday candles". I think the candles with the animals are so incredibly cute! I printed the Digi Stamp on colouring paper and colored it with my copics and polychromos. Then I diecutted the card overlay and glued it with 3D pads. In the background I previously glued a striped piece of design paper. A few enamel dots as decoration and a saying from the older stamp set "Birthday Slim Sayings" and the card is ready. I hope you like my inspiration. Get those Digi Stamps here.  Creative greetings,...
Posted by DESIGN TEAM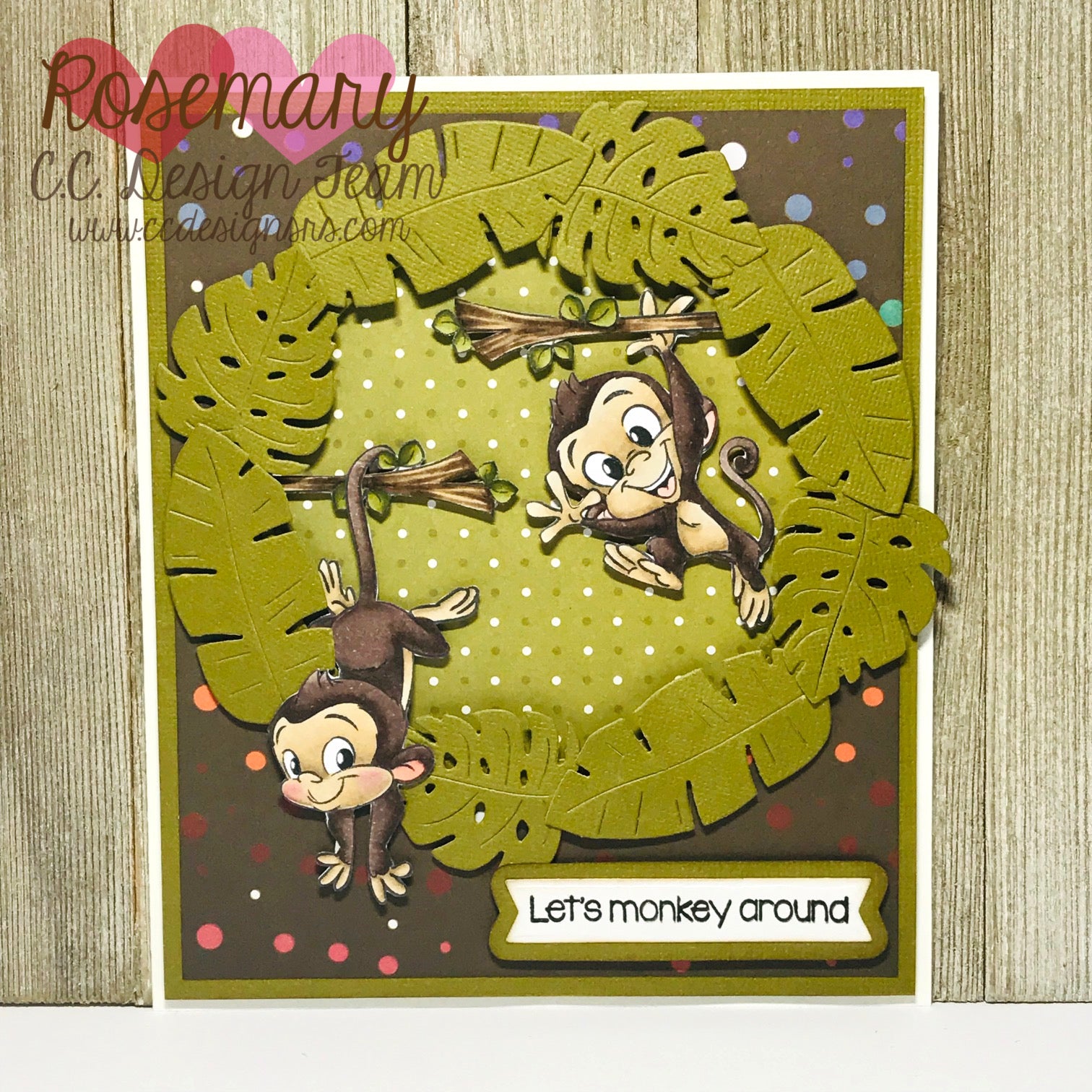 Happy Friday everyone! Today, I'm showcasing a card for C.C. Designs featuring one of my fave sets from the C.C. Designs February Release.....MONKEYS!! I also used awesome paper from both of the new paper pads. The paper pads are 6"x6" and have 16 designs with 2 sheets of each design.   Aren't these monkey adorable? They seriously make me smile! To put this card together, I first put the green Hearts and Dots Paper on my white card base. Then I glued the patterned paper from Razzle Dazzle Paper Pad to some green cardstock, and die cut a circle out...
Posted by DESIGN TEAM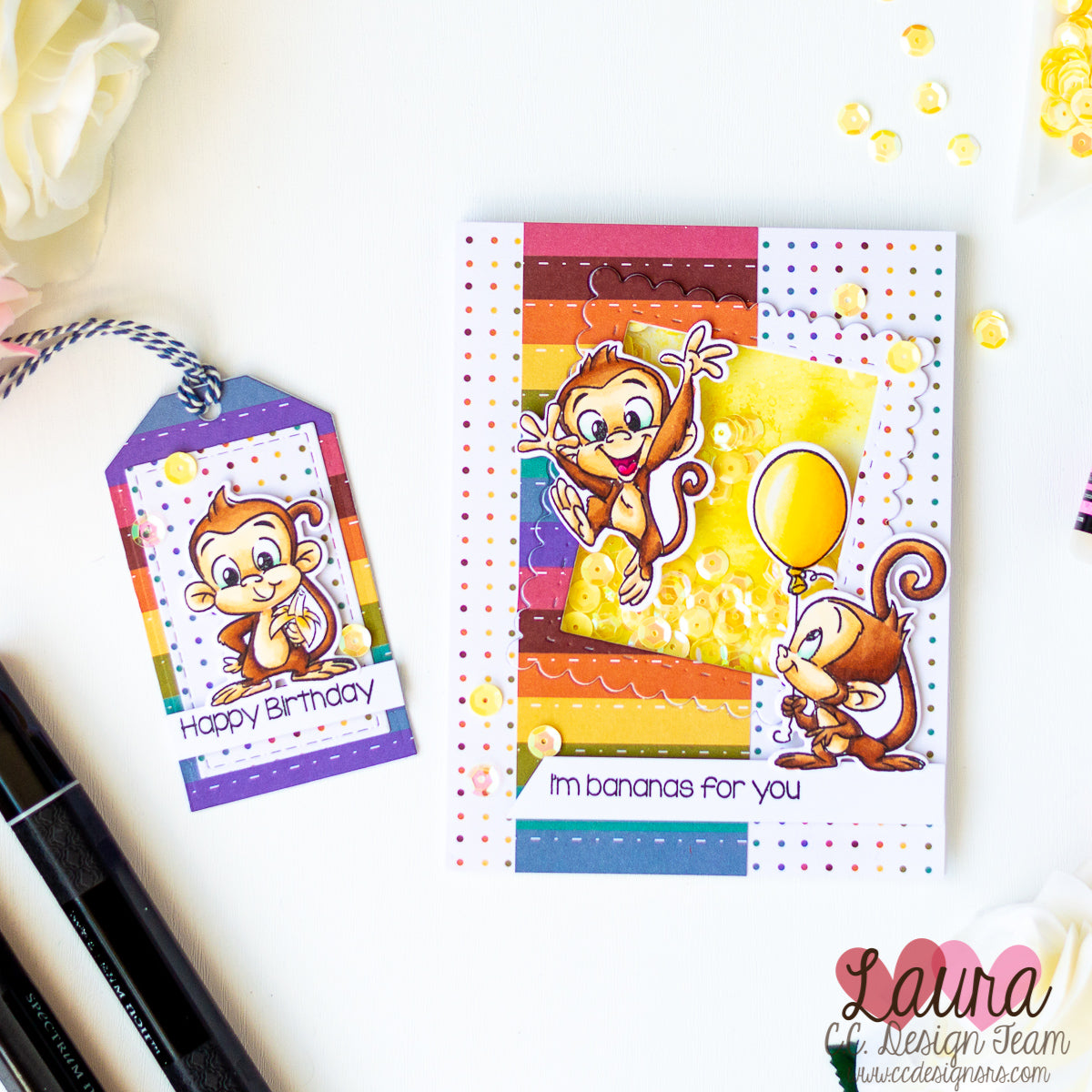 Hi everyone! It's Laura here, and today I am back with a super fun shaker card plus a matching tag - and a video tutorial showing how to make them too! The stamp set I used is the adorable Monkeys stamp set, part of the latest C.C. Designs release, which I paired it with papers from the Razzle Dazzle collection. I started by creating the front of my shaker. I picked two designs from the Razzle Dazzle Paper Pad, trimmed one of them to 4.25 by 5.5 " and the other to 2 x 5.5". I glued them together and...
Posted by DESIGN TEAM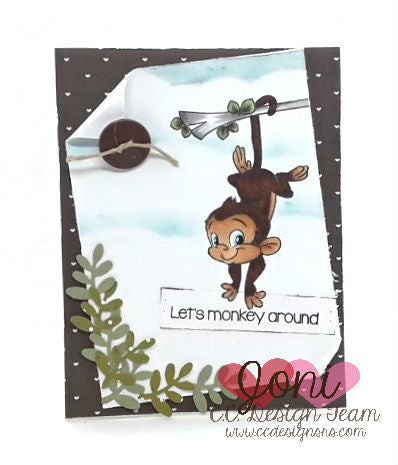 Happy Friday everyone! I hope you had a wonderful Valentine's Day celebration. It's Joni here on the blog with a cute little monkey from the newest Monkey release: This fella is just the cutest, isn't he?  I masked off the branch to have him hanging carefree, then added the sentiment on a little board for him to hold. Instead of using the adorable cloud die cut for its original purpose, I used it as a stencil for the background. Easy peasy to do! To finish it off, I paired it with the awesome Hearts and Dots Paper Pad. You can find...
Posted by DESIGN TEAM
Hello dear ones! Today it's my turn again to show you something. The monkeys have done it to me especially and I am totally infatuated with them. I used these things from the new releases: Monkey Clear Stamps and Dies Razzle Dazzle Paper Razzle Dazzle Clear Dots I shipped this little guy into the jungle. However, this is only indicated in the background, so that the monkey remains in the center. He doesn't have to hide! That there is now also paper from C.C.Designs I like very much! What do you say? I colored the monkeys with copics and took...
Posted by CHRISTINE WOODEN
Woohoo it is time to preview the new February release. The release will be available on February 7th at 12 noon CST. Today and tomorrow the team and I will be previewing the new products that are being release.  To go along with the new stamps and dies there are 2 new paper pads and coordinating enamel dots. The paper pads are 6" x 6" and have 16 designs, with 2 sheets of each design. There are 2 different enamel dots, clear and shiny. The shiny dots has the color throughout the whole dot, while the clear has the color in...