C.C. Blog — Quad Collage Die
Posted by DESIGN TEAM
Hello everyone and Happy New Year! Today I am sharing with you a project using a Christmas stamp set as not Christmas. The Christmas Time stamps and dies (Meoples, my favorite!), looks fabulous paired with the new Slimline Winter Scene dies (yep, you don't have to use all the pieces in a slimine design!). The stars in the Quad Collage die work perfectly with this combination (and check out how they are asymmetrical, perfect to give the illusion of twinkling).Have fun creating!
Posted by DESIGN TEAM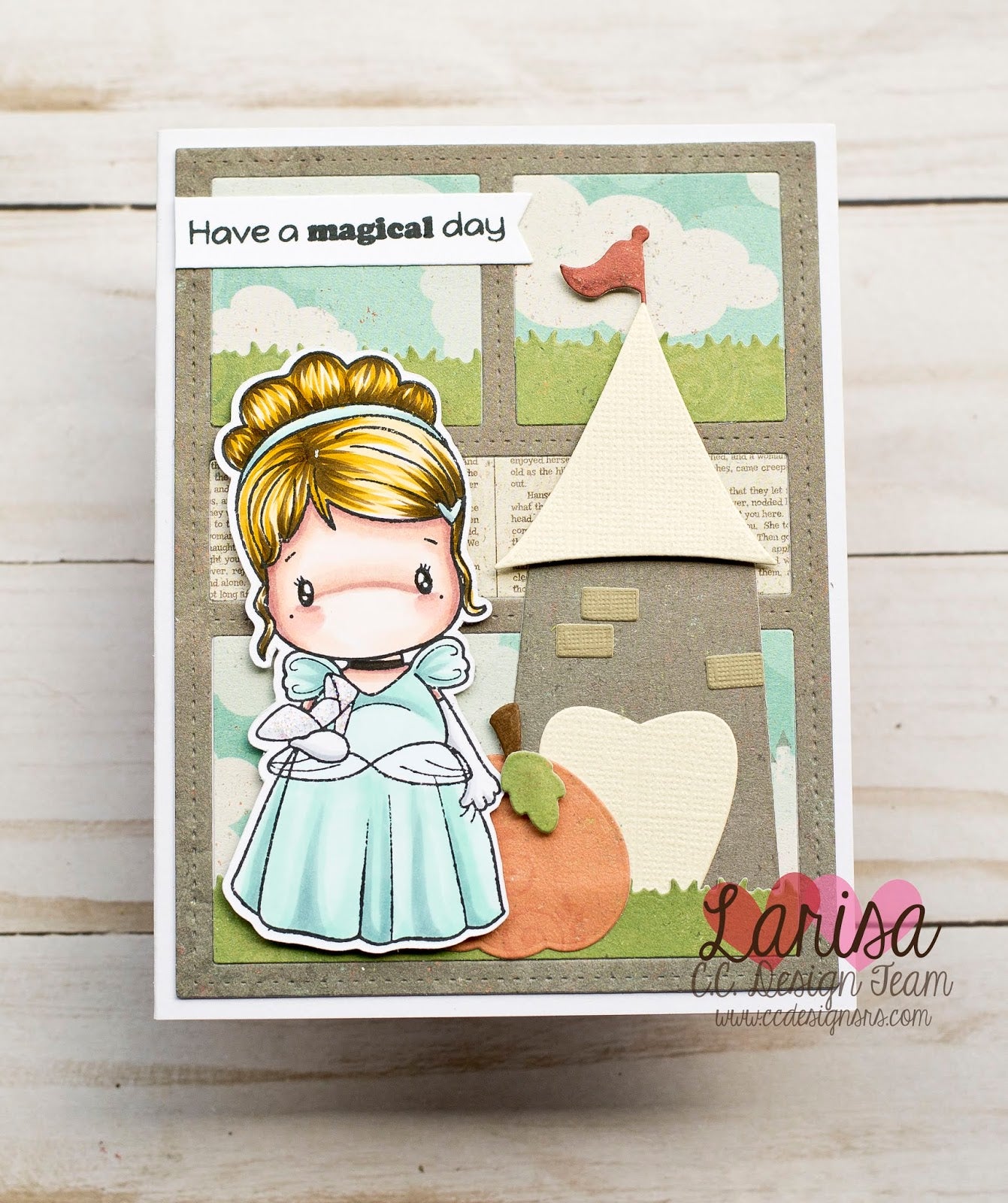 Hello!  Larisa here and today, I have a sweet little fairytale card for you featuring the NEW Ella Swissie stamp from CC Designs.  For my card, I used the Quad Collage die to create my background.  I also used the grass from the Cloud and Grass Die set to create my grassy hills.  Once I had my background created using patterned paper, I moved on to my little castle tower and added a little pumpkin in front of it.  Then I popped my image in front with some foam tape and added my sentiment to the top.  Such a sweet...
Posted by DESIGN TEAM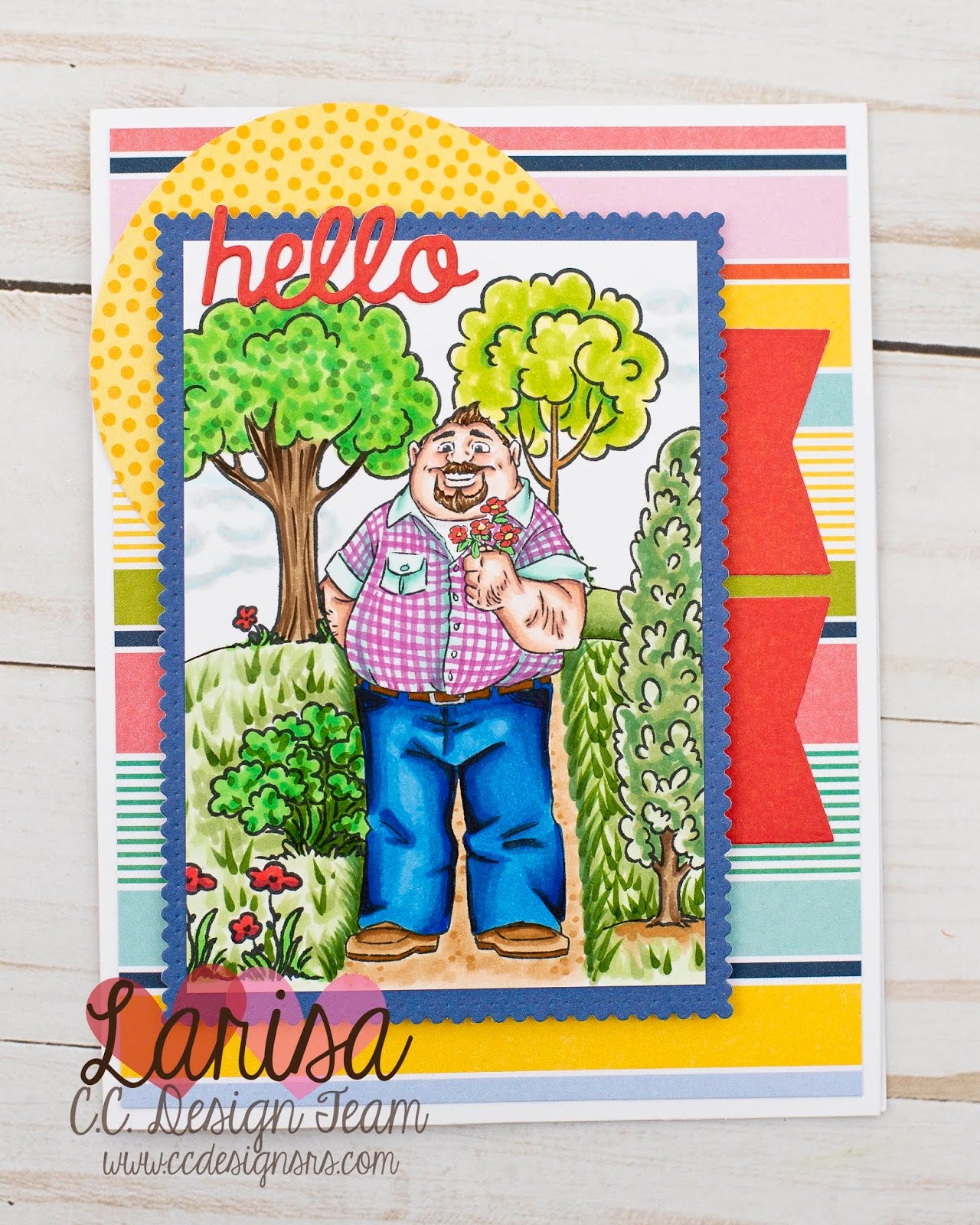 Hello!  Larisa here and today, I'm sharing a fun and very bright card using the New Oscar stamp.  Isn't he just the cutest?  For my card, I first created a scene using the NEW Create A Scene Clear Stamp Set.  The set is so awesome and allows you to create a different scene with every card!  I stamped out Oscar, then covered him with masking paper, and stamped my trees, shrubs, and flowers.  Then I colored the whole piece using Copic markers.  To create my card, I mounted my scene on a die cut scalloped rectangle, added it to some...
Posted by DESIGN TEAM
Hello, dear.Today I bring you a little card with two of the cute birds that have been on sale since the beginning of May. In the background you can see an old acquaintance, the background stamp "Hearts & Arrows". I only partially inked and stamped it with grey ink. I also used some punches from the Quad Collage Die Set. This set is so versatile that I really take it at hand over and over again. Among other things I used the following materials:Cute Birds Clear Stamps Cute Birds Outline Metal DieHearts & ArrowsRazzle Dazzle Clear Enamel DotsQuad Collage TheI...
Posted by CHRISTINE WOODEN

Welcome to the April Preview Days. We have 4 days of previews to show you before the release on April 4th at noon cst. There is a grand prize giveaway right here on the blog, you just need to comment on each day and each Design Team members blog. And then we have gift certificate giveaways each day in the Facebook Group. This month we have 2 new stencil designs, Birthday Dots and Concentric Circles. The Birthday Dots Stencil are random dots all over the 6" x 6" stencil, and the Concentric Circle Stencil has 3 different size dots in circles.   Our...
Posted by CHRISTINE WOODEN
It's day 2 of our previews. The new release will be available tomorrow at noon cst.   There is a new die called Cloud and Grass. It has a cloud line and two different grasses, a hilly grass, and a straight line of grass. The grasses can be layered together or used by themselves. A lot of the cards in the post today use the die set. Card #1 is the cute little flower. The card is an A2 size (5 1/2" x 4 1/4"), and I layered on top of it pattern paper from the new paper pad Razzle...
Posted by DESIGN TEAM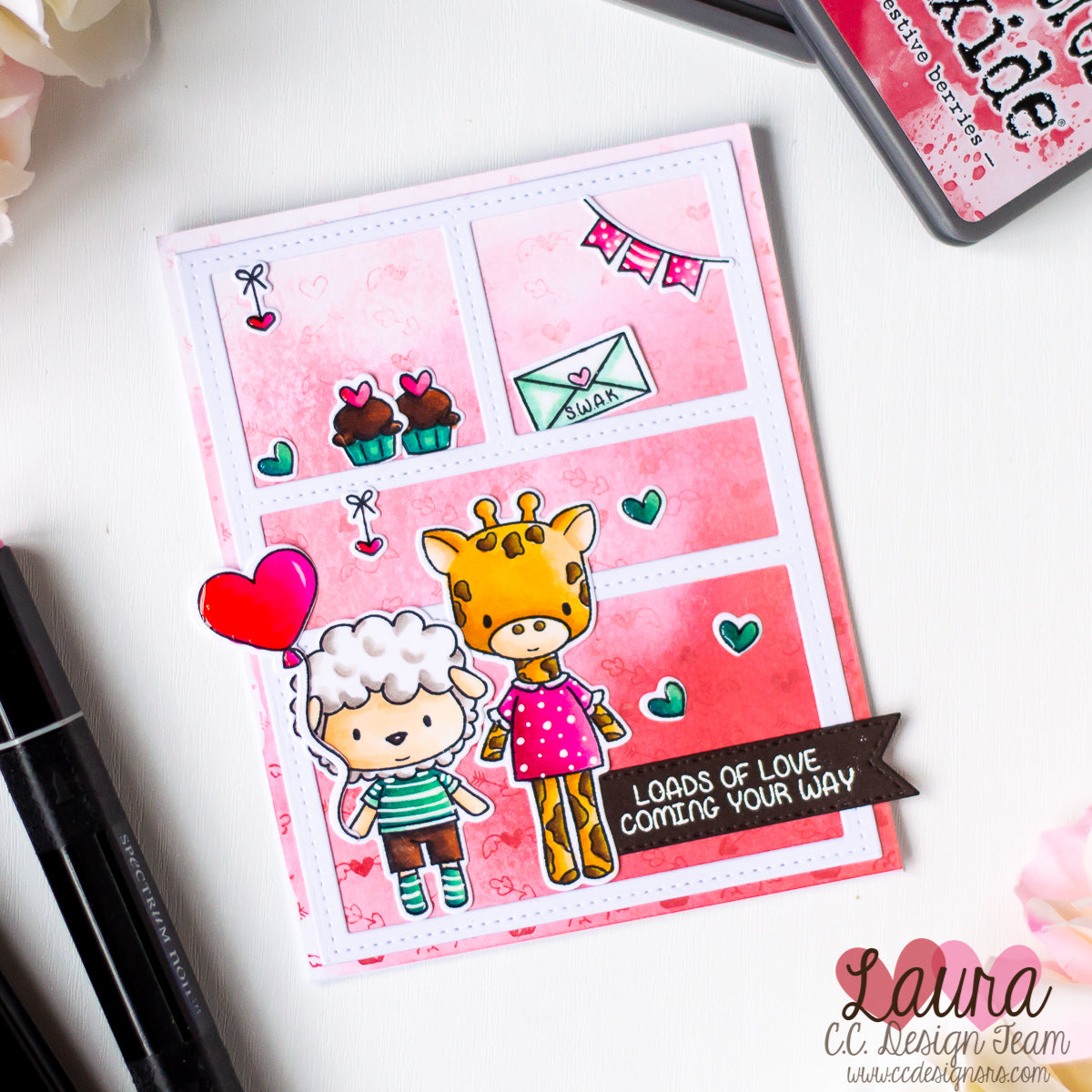 Hi everyone! It's Laura here, an today I am back with a post and a video where I will share how I created this sweet Valentine's day card with the Valentine Animals and the Hearts and Arrows Background Rubber Stamp.  For the background of the card I used Distress Oxides and a very easy and super fast technique to create an ombré watercolor effect - make sure to watch the video below to check it out! I used Festive Berries, Work Lipstick and Spun Sugar on Ranger Watercolor Cardstock. I then used the same colors to create a stamped pattern on...
Posted by CHRISTINE WOODEN
Our final preview is the Valentine Animals Set. But don't let the name fool you,, this set can be used for so much more than just Valentines Day. Since the animals arms are open you can add elements from other sets to them. Like the cookie from Coffee and Cookie Set.    Card 1 has the adorable sheep, I colored him in blues and greens and added white dots to his shirt. I again used the In & Outs Rectangle Die to center the card. The banners and star are from the Quad Collage Die. I embossed the sentiment with...
Posted by CHRISTINE WOODEN
When Roberto drew our Dragons Stamp Set, I knew I needed him to draw us Unicorns. And now they are here! I have to say these 3 are just the funniest little unicorns around. Card 1 uses the prancing unicorn. I colored him in blues and greens, and cut him out with the Outline Die. The horn has some stickies on it to give it a little shine. I used the new rubber stamp Cutie Doodles Background stamp. Which I stamped in Memento Ink. I used the In & Out Rectangle Die to make the shaker card. I used some...
Posted by CHRISTINE WOODEN
Day 2 brings us the cutest little bugs ever! They were so fun to color and create cards with.  Card 1 has the bumblebee bug. I colored him up with Copic Markers and added Stickles to the wings. I cut him out with the Cutie Bugs Outline Die and attached him to the In & Out Oval Die. I used the Honeycomb Stencil with matte embossing paste to make the background. I scooped out some of the paste and then sprinkled glitter on it. I mixed it up a little bit before I smeared it on the stencil Lately I...
Posted by CHRISTINE WOODEN
I have so many fun, new products for this month. Today through Thursday myself and the team will be previewing cards from the new January release that will be available on Thursday, January 10th at 12:00pm CST.  The first card is the new rubber stamp, Butterfly. The card also features the new In & Out Rectangle Die. I colored her with Copic Markers, including the grass feature at her feet. I cut her out with the In & Out Rectangle Die, I also used the die a second time to cut out the pink outer frame. The new In & Out Dies let...