Posted by DESIGN TEAM
Hello and happy Tuesday! It's Meg here to share with you a simple card made with some of the new products from the March release!My project features the Witches stamp set and the Starburst die. I used some of the Color Splotches stamps to add some interest to the background.I love Glinda the Good Witch - and I have a tip to share about her hair. Sometimes it's tricky to color curly hair, but less color can be more! By only coloring some of the highlight pieces, her hair looks brighter and deeper.Have a wonderful crafty week!
Posted by DESIGN TEAM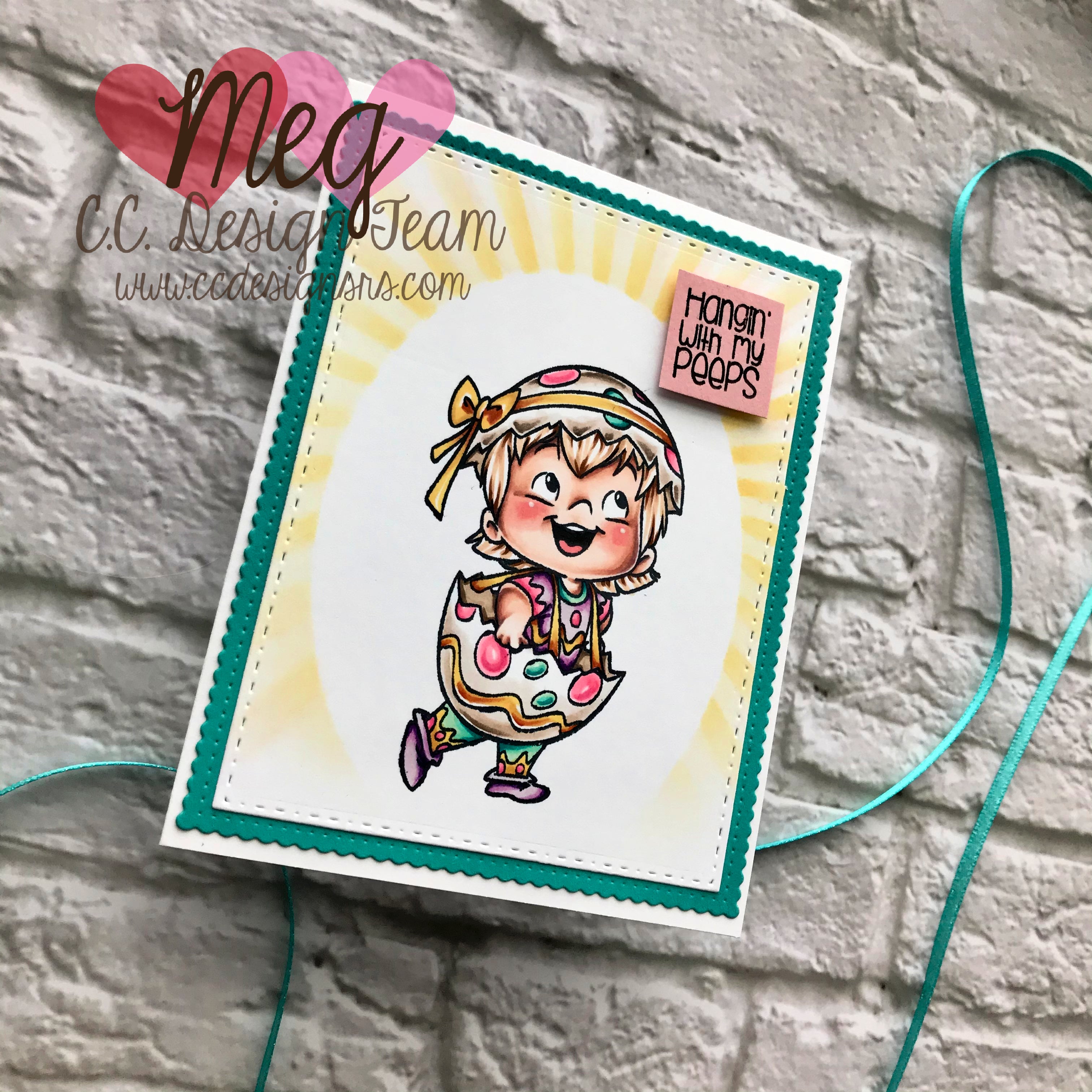 Good morning and happy Monday! Today I'm here to share a cheery design with you featuring Easter Twila. This little girl is so full of Springtime cheer, it's easy to create a simple design - her costume brings all the color!I hope this project inspires you today! So many different color combos that would work for her little egg suit!
Posted by DESIGN TEAM
Hello everyone and Happy New Year! Today I am sharing with you a project using a Christmas stamp set as not Christmas. The Christmas Time stamps and dies (Meoples, my favorite!), looks fabulous paired with the new Slimline Winter Scene dies (yep, you don't have to use all the pieces in a slimine design!). The stars in the Quad Collage die work perfectly with this combination (and check out how they are asymmetrical, perfect to give the illusion of twinkling).Have fun creating!
Posted by DESIGN TEAM
Hello and happy winter. It's MEG here today to show off the new Ice Skate Fun stamps and the Slimline Winter Scene dies. My tip for you is to share that the NEW C.C. Designs slimline dies can also be used on traditional 4.25 x 5" cards, too. Here, in addition to the Slimline Winter Scene dies, I've also used the Scalloped Slimline dies and the Slimline dies.Happy Winter, y'all!
Posted by DESIGN TEAM
Hello! It's MEG here to share with you something "different" I did with the new Deco Square dies. I chose to make some little trinkets you could use as gift tags, or to adorn gift packages. For my project, I colored up Reindeer Swissie for one side of my trinket. For the other side, I created a shaker. For my background, I used the jingle bells stamp and sentiment from the Christmas Animals stamp set. I used the Deco Square dies to create my shaker frame. Aren't they just perfect for a Christmas bobble? I chose the dotty cranberry paper...
Posted by DESIGN TEAM
Christmas is my favorite season, and gift tags are some of my favorite projects. They can be as elaborate or as simple as you'd like, but they are sure to be...stunning. The new Tiny Angels clear stamps makes taggies fun and easy, from traditional saying to contemporary, and has an assortment of really cute angels to choose from. Making this cutesy gift taggie was really easy, and other C.C. Designs products made it so. Here's what else completed this project: the Build A Snowman clear stamps (for the snowflakes), the Tags Galore dies, the Quad Collage dies, and the Banner...
Posted by DESIGN TEAM
True confessions...I am not a Halloween girl. But, it is the perfect time of year to test out some new backgrounds that wouldn't normally "match" with other themes. It's super easy to design a cute Halloween card using an interesting inked background, and using black cardstock to cut out your dies. In my design, I've used Seedless Preserves, Fossilized Amber, and Twisted Citron Distress Inks to create an eerie background. My little gal from the new Witchy Way clear stamps is ready to brew up some fun. The C.C. Designs shop has a great set of dies usable for Halloween....
Posted by DESIGN TEAM
Hi! It's MEG here today to share a tip on selecting patterned paper for your projects. I'm using To The Market Swissie to illustrate this. I recently read a social media post where the poster asked whether other crafters if they colored images first and then picked papers to match the coloring, or the other way around. The answers indicated that crafters chose to limit themselves a lot by choosing their paper beforehand...but it doesn't NEED to be a limitation. Instead of selecting a single paper for use, why not try matching an entire paper stack?! I don't know about...
Posted by DESIGN TEAM
Hi everyone! It's MEG here today with a CAS design to share using the new Lots of Love stamps and dies! This stamp set is a perfect choice for an easy "love you" card. I paired the stamps with the In & Out Circles dies, and the Banner Accessories dies. I've also used a pop of pink color in my frame, from the Hearts & Pink paper pad. Have a beary great day!
Posted by DESIGN TEAM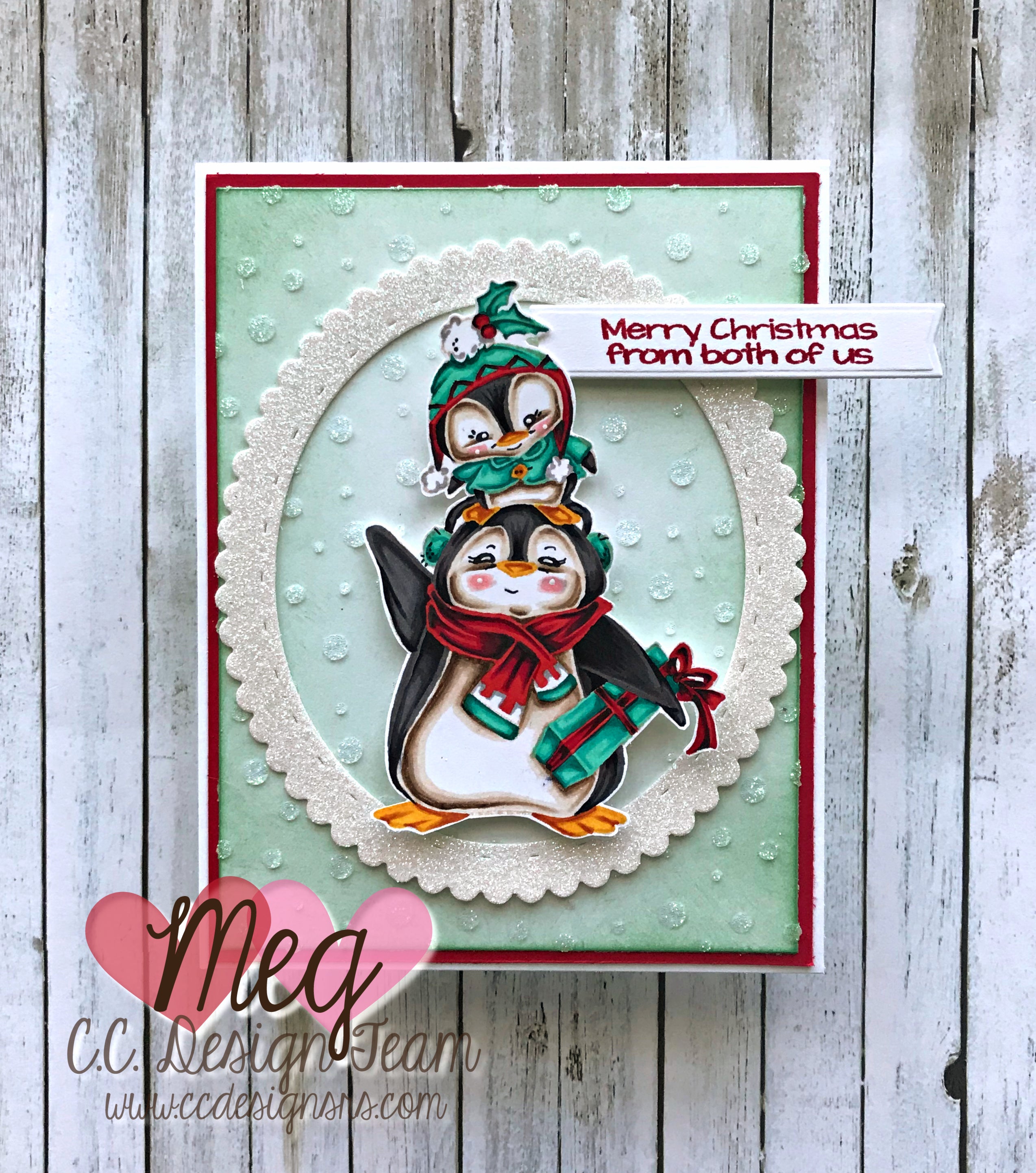 Hello all! It's Meg here today to share with you some cute penguins! I used the new Christmas Together clear stamps and colored up these cuties using a no-lines coloring technique. I think they are just sooo cute! I completed my design using the In & Out Oval dies, and the Large Banner dies for my sentiment. The background sparkles were also made with a retired C.C. Designs stencil! Have a happy day!
Posted by DESIGN TEAM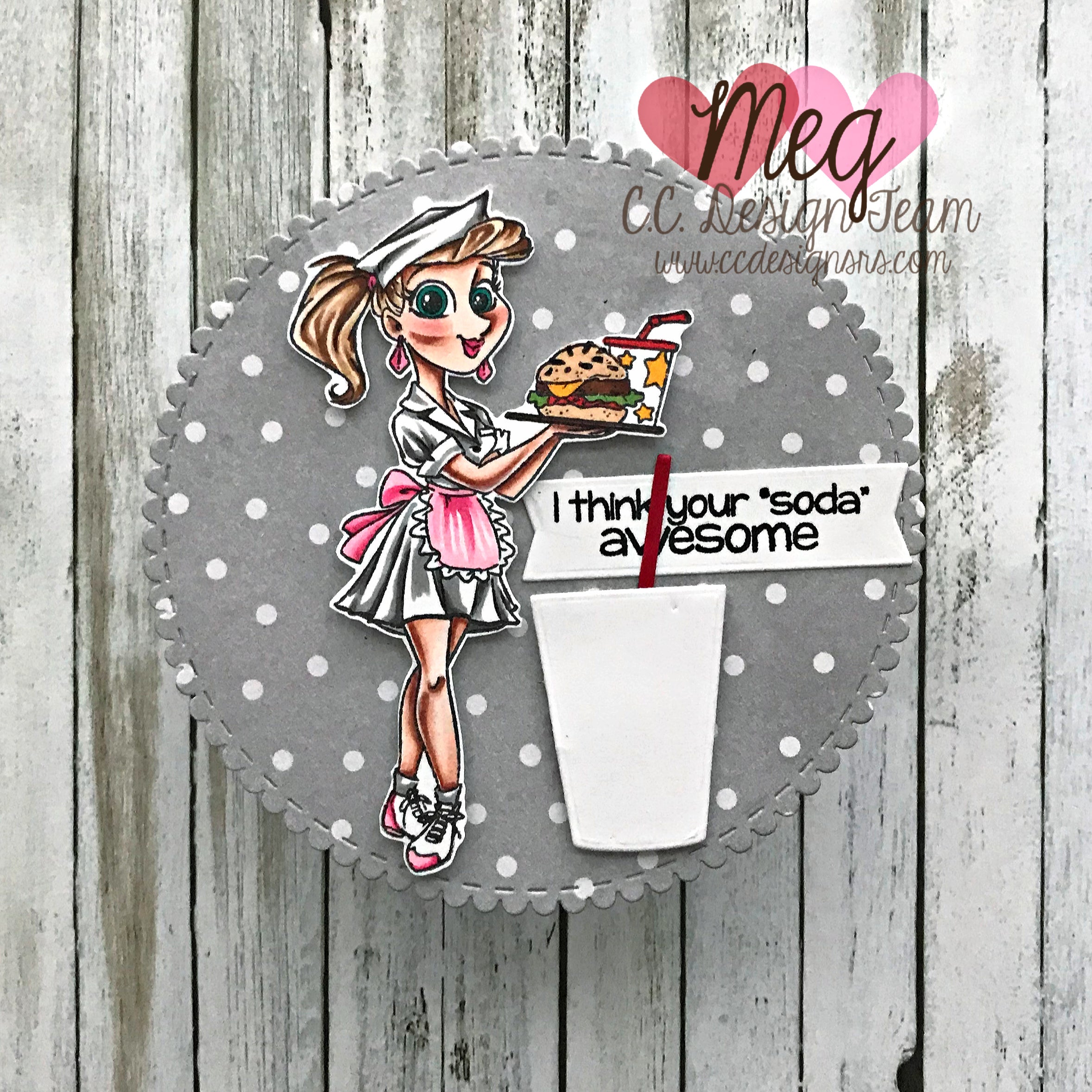 Hi everyone! It's MEG here today. I just LOVE the new Car Hop Clara clear stamps - -the sentiments are so fun! It's easy to go simple on your design with sentiments like this that make you chuckle. The new Burger and Soda dies pair perfectly with this stamp set - so many details, so many options! Have you checked out yet all the combinations of things you can make with these shapes?! See you next time! Soda long...ok, that didn't work so well...
Posted by DESIGN TEAM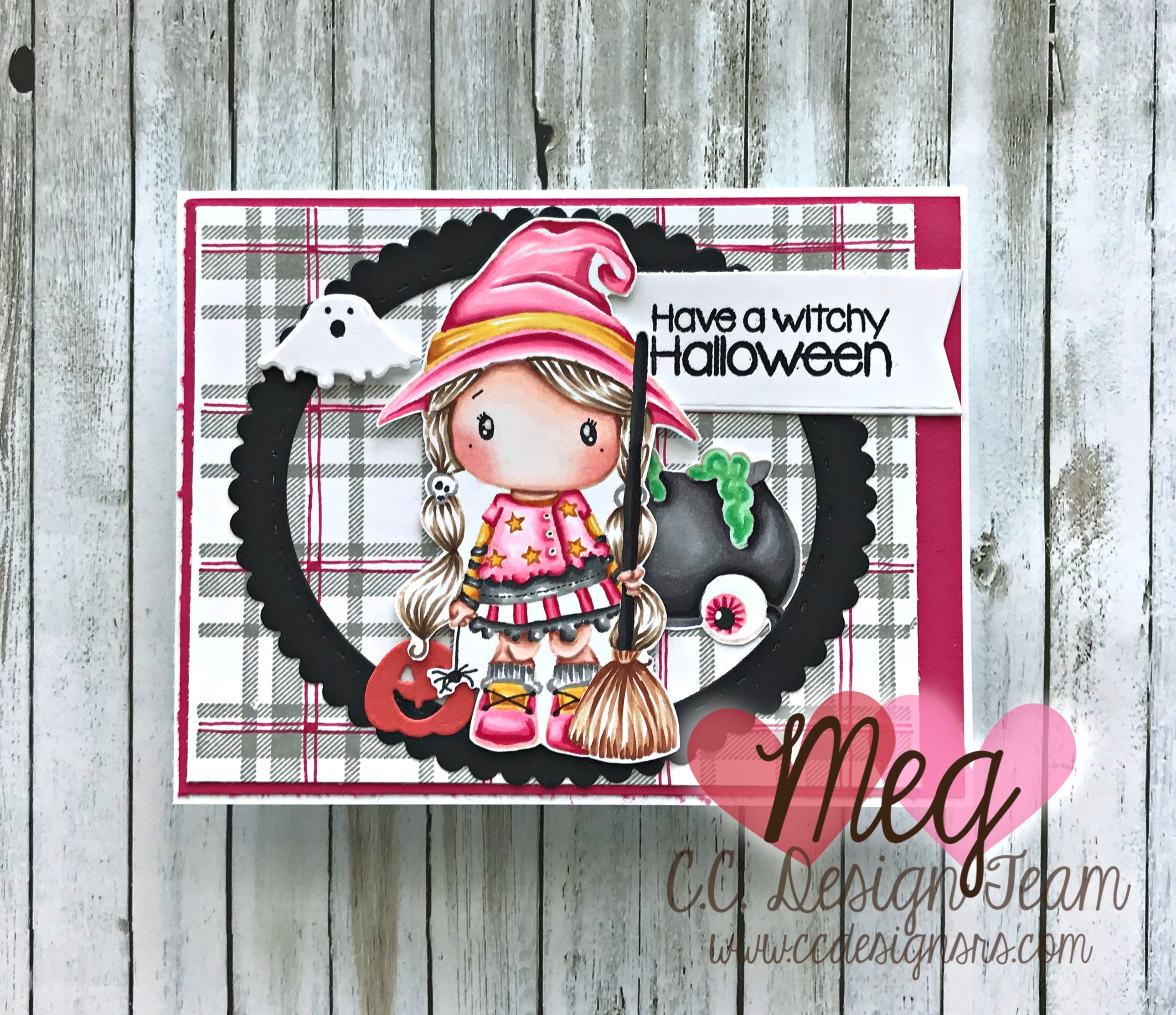 Hi everyone! It's MEG here today with a Halloween card that uses lots of new products! I can't believe we're getting into the fall of the year already! Time really does fly! My project today uses the Swiss Pixies Halloween clear stamps, along with the Plaid Background rubber stamp (I added the pink lines myself - easy peasy to do!). I added the pumpkin and ghost by using the Unicorn Halloween Costume die, my sentiment with the Large Banner die, and the black frame with the In & Out Oval die. I colored up my pixie in pink - it's...