Posted by DESIGN TEAM
Hello,I am currently in ATC fever again and I just finished these three.I used 3 of the cute stamps from the "June & July Clear Stamps" from last year. You can find it here in the shop: click I have designed the background with many different stamps and punched them out appropriately. I use the Scalloped Rectangle Metal Die. A small decoration of enamel dots and they were ready. Of course I also filled in the back again. "S.Y.S" stands for "Sea you soon" ;-) I take more care to avoid plastic garbage, so I made small envelopes myself and...
BOW DIE
,
CHRISTMAS
,
CHRISTMAS PAPER PAD
,
ENAMEL DOTS
,
HOLIDAY
,
I HEART SNOW PAPER PAD
,
IN & OUT DIE
,
LAYERING TAG DIE
,
MAKE A SNOWMAN OUTLINE DIE
,
TINY WINTER
,
TRIO COLLAGE DIE
,
WINTER
Posted by DESIGN TEAM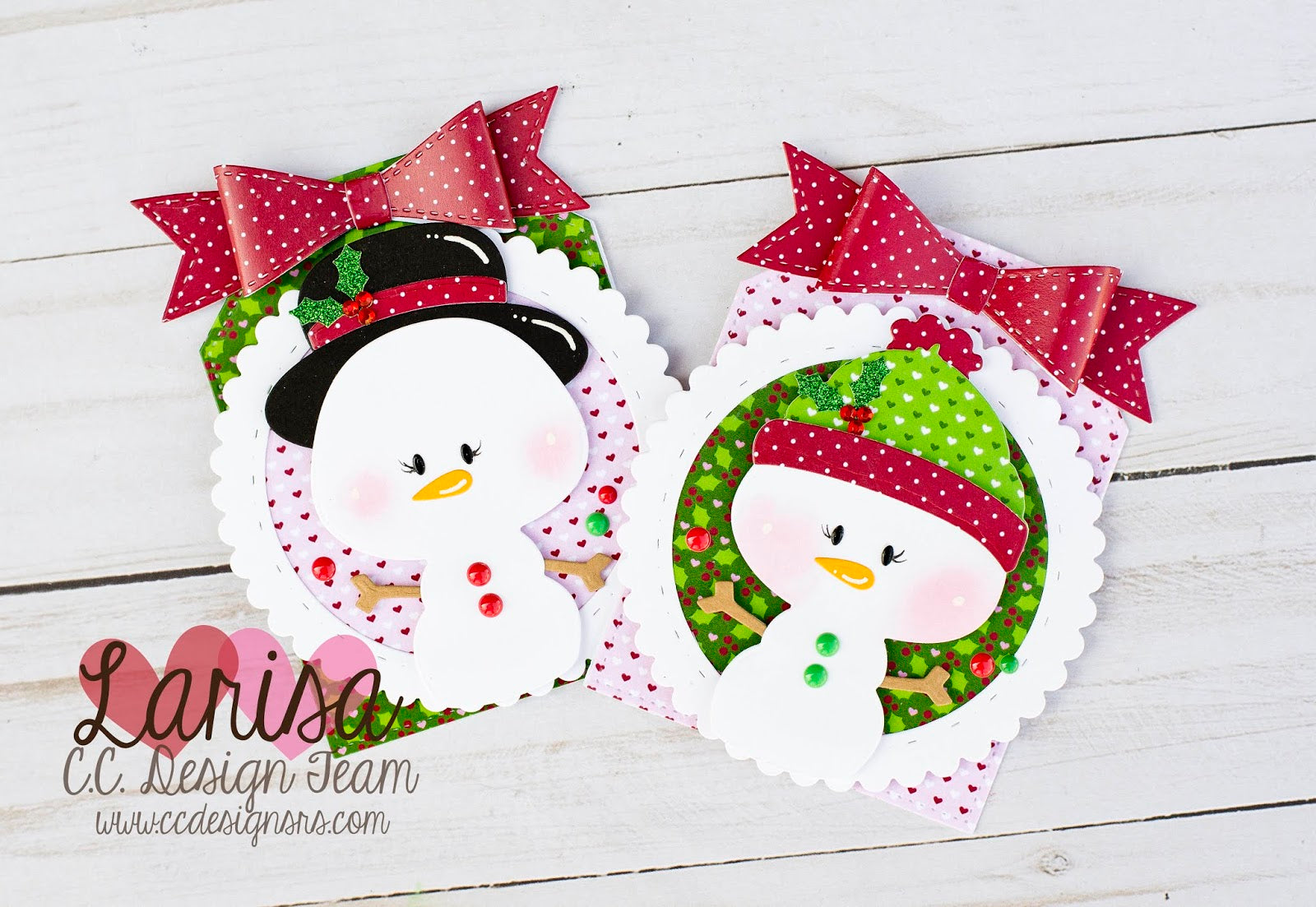 Hello!  Larisa here.  Today, I'm so excited to share some Snowman Goodies with you!  I have two different projects to share!   My first project is two gift tags featuring the NEW Make A Snowman Outline Die!  I had so much fun creating these!  First, I die cut the largest tag from the Layering Tag Die Set.  Then I added a Circle in a contrasting pattern and topped that with a white die cut from the In & Out Circle Die.  I pieced my snowmen together and added some accents with enamel dots and some 3D stickers from my stash.  Then...
Posted by DESIGN TEAM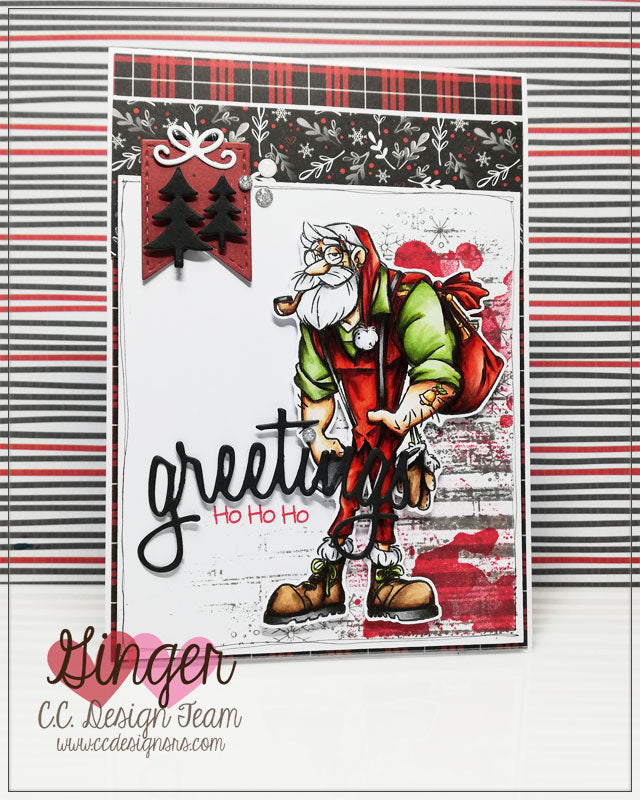 Hello dear ones. No more 50 days until Christmas! This year this Hipster Santa will decide if you were good or naughty ;-). I find him absolutely cool and something different than these fat-bellied grandfathers, although I also like them very much! I used it: Hipster Santa Clear Stamps - https://ccdesignsrs.com/products/new-hipster-santa-clear-stamps?_pos=1&_sid=98d61b339&_ss=rTrio Collage Die - https://ccdesignsrs.com/collections/die/products/new-trio-collage-dieSparkle Enamel Dots - https://ccdesignsrs.com/collections/enamel-dots/products/sparkle-enamel-dots So now a few more photos. I hope you like the card! Ho Ho Ho Ginger
Posted by DESIGN TEAM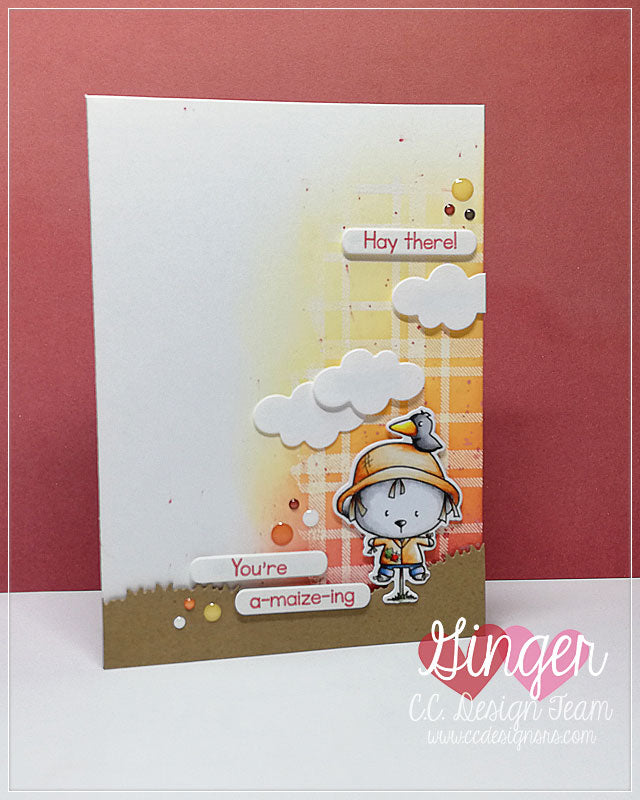 Hello friends, isn't that little scarecrow adorable? Would you let her scare you off? Not me ;-). In the background you can see the new background stamp, which I stamped with the embossing stamp pad, which is also quite fresh, and then sprinkled it with white embossing powder and melted the powder. After that I distributed Distress Oxide stamping ink and made some paint splashes. The small labels are the "i" from the new alphabet dies. So you can use them differently. ;-) I have used amongst other things: August&September Stamps and dies "i" as label from Olive You Alphabeth...
Posted by CHRISTINE WOODEN
Hello, and welcome to day 1 of our May previews. Today we are previewing a super cute new set called Cutie Birds. It is a clear stamp set that has coordinating Outline Dies that you can purchase separately.  Card #1 I created a scene with the new Clouds & Grasses Stencils and Copic Markers. The little flowers are from the Spring Things Clear Stamp Set, which I stamped in tan ink so I could do no line coloring so they looked like they were part of the scene. I free handed the trees and leaves. I used the hilly grass...
Posted by DESIGN TEAM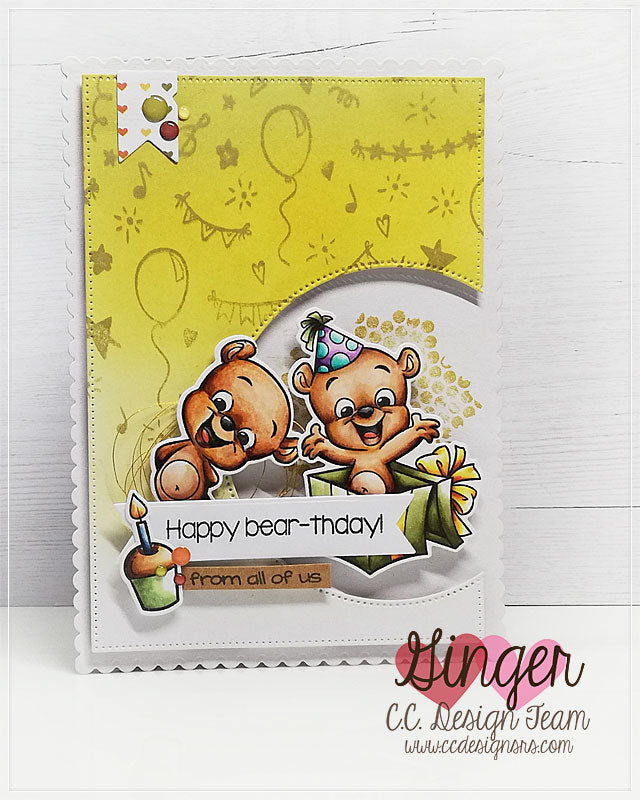 Hello! It's party time today! At least with these cute little bears. Aren't these two great? They are in a really good mood! I colored the motifs with Copic alcohol markers and then cutting them out. I also used the new background stamp. I colored it so that the pattern runs out to the bottom. First I dyed the paper with Distress Oxide and then I stamped over it. I oriented myself to the colours of the bears. Bears Stamps Bears Dies Backgroundstamp Enamel Dots Have a wonderful day! Hugs Ginger
Posted by CHRISTINE WOODEN
It's day 3 of our previews. The new release will be available April 4th at noon cst. Day 3 brings us the fun set Hippo Birdie Two Ewe. In the set are 2 hippos, 2 ewes, and 2 birds. I had so much fun creating this set, and the hippos just crack me up.   Card #1 features a hippo, bird, and 2 ewes along with the coordinating sentiment. The card is thin and long letting me add all 4 characters. I used the grass die from Cloud and Grasses Die and added the bigger bow from the Bow Die. I...
Posted by CHRISTINE WOODEN
It's day 2 of our previews. The new release will be available April 4th at noon cst. We have a new background stamp this month, Birthday Background. This rubber stamp that is attached to foam, coordinates perfectly with our birthday sets. Today we are previewing another new stamp set and coordinating outline dies called Forest Creature Birthday Clear Stamp Set.    Card #1 is the fox and raccoon having a little party between themselves. I used the In & Out Rectangle Die with the Dazzle Dazzle Paper Pad for the center piece. I finished it off with Dazzle Dazzle Clear Enamel Dots.  ...
Posted by DESIGN TEAM
Hello, I hope none of you are sick, but sometimes you need them. So that somebody knows that you think of them very much! I tried a different card form once and am actually very satisfied with it. I used some of the great paper again, which is very versatile, as you can see. It goes with everything. I only decorated the card with punched hearts and a few dots. I use:Nurse Sue Stamp Razzle Dazzle Clear Enamel Dots Hearts & Dots Paper Pad Trio Collage Die If someone is sick at the moment, then I wish him or her...
Posted by DESIGN TEAM
Hello dear ones! Today it's my turn again to show you something. The monkeys have done it to me especially and I am totally infatuated with them. I used these things from the new releases: Monkey Clear Stamps and Dies Razzle Dazzle Paper Razzle Dazzle Clear Dots I shipped this little guy into the jungle. However, this is only indicated in the background, so that the monkey remains in the center. He doesn't have to hide! That there is now also paper from C.C.Designs I like very much! What do you say? I colored the monkeys with copics and took...
Posted by CHRISTINE WOODEN
When Roberto drew our Dragons Stamp Set, I knew I needed him to draw us Unicorns. And now they are here! I have to say these 3 are just the funniest little unicorns around. Card 1 uses the prancing unicorn. I colored him in blues and greens, and cut him out with the Outline Die. The horn has some stickies on it to give it a little shine. I used the new rubber stamp Cutie Doodles Background stamp. Which I stamped in Memento Ink. I used the In & Out Rectangle Die to make the shaker card. I used some...
Posted by CHRISTINE WOODEN
Day 2 brings us the cutest little bugs ever! They were so fun to color and create cards with.  Card 1 has the bumblebee bug. I colored him up with Copic Markers and added Stickles to the wings. I cut him out with the Cutie Bugs Outline Die and attached him to the In & Out Oval Die. I used the Honeycomb Stencil with matte embossing paste to make the background. I scooped out some of the paste and then sprinkled glitter on it. I mixed it up a little bit before I smeared it on the stencil Lately I...